Lineage
mentorship with experienced guides.
Courses & Retreats
2020, the Year of Meditation
Benefit from the support of experienced mentors and an inspiring community with meditation retreats and courses.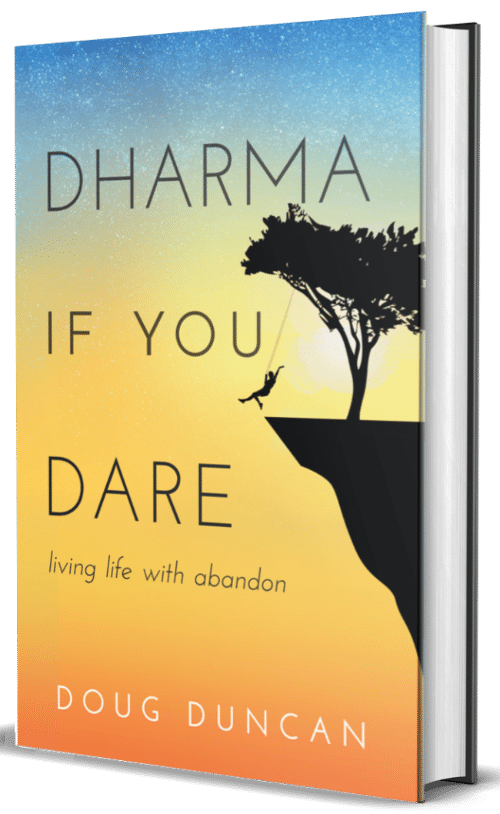 Re-Launching the Classic
Dharma if You Dare: Living Life with Abandon
by Doug Duncan
Doug Duncan Sensei's classic book, Dharma if you Dare, has just been relaunched to celebrate his birthday and Clear Sky's 15th anniversary in 2020. The book offers an empowering starting point for addressing our desire for 'something more'.  The new edition features updated resources to take your practice further, as well as a brand new cover.
Humorous and accessible, discover how to explore your own feelings of longing and dissatisfaction with practical tools – based in the Tibetan Karma Kagyu lineage and other wisdom traditions – helping to free your mind.
Wake Up: Four Paths to Spiritual Awakening

Take this free online course that distills life-changing practice into four core paths that you can apply to your home, work and relationships. 
On our partner Innerplicity's fantastic online platform:
Thank you so very very much for all the wonderful, enriching, life-changing teachings… They've brought so much colour, lightness and movement to my life which I get to share now with others. I am so grateful to be a part of this magnificent community and look forward to all the healing and dancing in rainbows for the benefit of all.
Doug and Catherine Sensei are living examples of the dharma teachings. Their teachings are articulate, humorous and very relatable. For me, their teachings give me a place to begin to apply the dharma in my own life and a trusted context from which to take a bigger perspective. In their presence, they have the ability to put me at ease and their teachings (somewhat mysteriously) become alive and intimate.
I trust in their one-pointed focus on whatever it takes to speed their students unrealized potential. I am excited their newest offerings are "herding" us individuated beings into a community of shared learning.
Doug and Catherine Sensei demonstrate how every encounter in our lives is not only a litmus test that shows if we are acting with compassion or not, they hand us the polish for the silver that we can use to rub away the tarnish of our egocentric mode of perception to reveal the inherent sparkle of a compassionate heart and mind no longer run by selfish, unconscious drives reinforced by unquestioned, habitual patterns of thinking and behaving. The choice to see the polish for what it is and apply it is ours to make.
What is the Purpose of Spiritual Practice?
Life is a fascinating journey, filled with discovery, exploration and awesome experiences. It can also be fraught with suffering and sorrow, often unnecessarily. Happiness is the original state that shines through after unnecessary suffering has been eliminated. We're dedicated to sharing this path.
A Modern Spiritual Path
Our mandate is to support as many beings as possible to experience spiritual awakening. Our overall approach to the the spiritual path, includes four important aspects
               ——————————–>
Four Pillars for a Modern Spiritual Path
Click each tab below to read about the four important aspects of a modern spiritual path:
The universe is an amazing, interactive campus, and there is so much to learn and discover. In addition to philosophy, we use science, the arts, kinesthetics and other kinds of direct experience to develop and integrate our various interests.
A truly inspiring spiritual path includes discovery, exploration and study. It incorporates both formal study and apprenticeship-style modalities.
Formal study opportunities with Planet Dharma include online or in-person courses, meditation retreats and public classes.
Meditation is indispensable to spiritual awakening. In its various forms –such as sitting practice, prayer and contemplation – it speeds up an individual's spiritual and personal unfoldment. It helps us integrate the various parts of the psyche. It develops great calm and concentration that lead to greater states of bliss.
Meditation also brings us vast insight and understanding, the building blocks of wisdom. We use both Eastern and Western methodologies to achieve these aims.
Our modern lives call for a spiritual practice that goes beyond the meditation cushion – to bring awareness and meditation to every action and interaction we have, 24/7, 365.  Awakening in Action, or "Karma Yoga" is a spiritual path for the 21st century and beyond.
In Karma Yoga, we watch the patterns that arise as we interact with others. We use the same principles that we've learned in meditation and apply it to our work, our relationships and our communities.
Shadow Integration
We all have buried aspects of our psyches that became suppressed due to our family and societal conditioning. These are what Freud called the subconscious and Jung called the shadow.  Spiritual awakening is also about making this unconscious aspect conscious.
It's important that we are clear and honest: by its very nature, shadow work is not fun or pretty. It takes courage and fortitude to see parts of our being that are not like we wish them to be, and to dedicate one's energy to transforming that.
We believe that integrating our shadow is fundamental and one of the fastest ways to unfold spiritually, and reduce our suffering.
Awakening is your birthright.
Doug and Catherine teach the Vajrayana with great skill and means. Their ability to shift, weave and embrace each moment with different kinds of students is amazing. One of the jewels they teach and transmit is deity practice, or arising yoga. I have experienced many of their wongkur initiations and find them powerful and liberative experiences that also provide tools of great value in my day-to-day practice.
Doug and Catherine are always burning calories to get you back on a path that can lead toward greater self-awareness. When I am with these two very clear individuals, I am humbled by their dedication to others, and understand the every-waking-moment responsibility that comes with their calling.
Doug Duncan and Catherine Pawasarat have always been consistently honest, accurate and candid with me. Sometimes it's taken me years to admit my self-sabotaging blind spots. Clear radical self-honesty liberates my sticky parts. So thanks to my master teachers for freeing up all the energy knots. Especially the knots created from unconscious patterning around money, sex and power.
Awakening today.
We offer an ever-evolving modern spiritual path for committed, courageous seekers.
Explore the teachings three ways below: