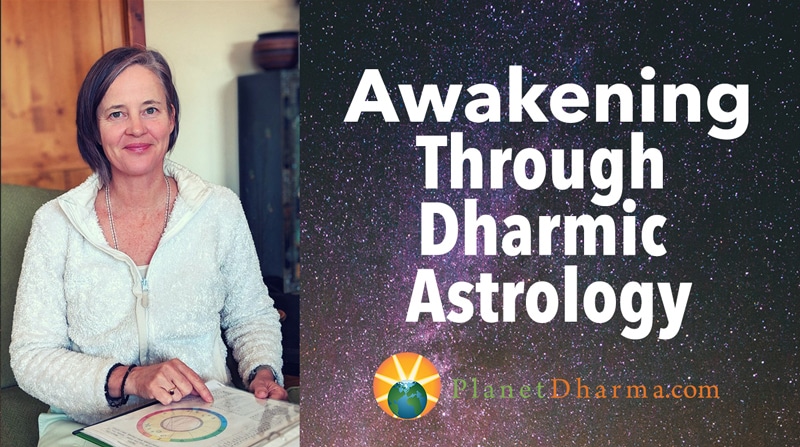 Enter now to win a 

free 45-minute AstroDharma consultation

with Catherine Pawasarat.
Due to other teaching commitments, Catherine has given very few personal consultations in recent years. Take advantage of this opportunity!
A reading of your natal horoscope can provide insights into any challenges you may be facing, including longstanding patterns or recent events. It can also uncover strengths you didn't know you had, new talents and areas waiting to be grown into. Most of all, a chart reading can give you perspective, and help you transform problems into opportunities.
Together with her partner Doug Duncan, Catherine has been teaching practices of spiritual awakening rooted in Buddhist philosophy for more than a decade from Clear Sky Retreat Center, their base in the Canadian Rocky Mountains. Since the 1990s she has also given readings and teachings in transpersonal astrology, based on the teachings of Carl Jung.
Entry to the contest is open to anyone who joins the AstroDharma mailing list between March 15th and April 20th, 2018. If you are already receiving general mailings from Planet Dharma, you can still join.
To enter the contest, subscribe below and click the opt-in email that you'll receive. That's it!
The winner will be announced by email and on Facebook on April 22nd, 2018.
Even if you don't win, you'll learn more about your chart through AstroDharma Insights (sample here ). These include fundamental teachings about what's happening with the planets and how to leverage them for your personal, professional and spiritual unfoldment.
You'll also benefit from dynamic Planet Dharma teachings on our contemporary path of spiritual awakening through weekly Planet Dharma Updates.
You can easily unsubscribe from one or both lists at any time.
Interested in learning more about AstroDharma and how it can help you?
Check out this video on key AstroDharma indicators for how you show up in relationships.
Read this blog on how AstroDharma helps us gain greater spiritual liberation (which pays off big-time in our personal and professional lives).
Or for a deeper dive online, enroll in Catherine's Introduction to AstroDharma self-guided online course.
Prefer connecting in person? Join Catherine for an Awakening Through AstroDharma retreat at beautiful Hollyhock on Cortes Island, July 4-8, 2018.
We find AstroDharma especially effective to help us integrate our shadow elements, which frees up a lot of energy and allows us to experience more joy. This blog explains.
Contest Rules and Eligibility
Entrants must confirm subscription by midnight on April 20th, 2018

The 45-minute consult must be redeemed by August 31st, 2018

The consultation is non-transferable.

Entry is limited to one email address per participant.

Consultation can happen on Skype, Google Hangout or Zoom between the hours of 8am to 4pm (PT), Monday to Friday

Rules are subject to change