Library: Dharma Resources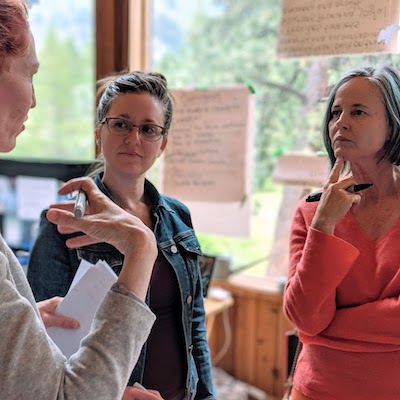 Read, watch, listen, contemplate.
You are invited to enjoy our ever-growing online library of Dharma resources – including our three books, our podcast channel, youtube videos, Dharma articles and self-study courses – from anywhere in the world!
by Doug Duncan 
Humorous and accessible, this pithy book offers an empowering starting point for addressing our desire for 'something more'.
Reflections on the Path to Awakening
by Doug Duncan and Catherine Pawasarat
There is an awakening experience that is vast and beyond words. This book is a manual of the spiritual path, elucidated via practical experience and reflections.
by Catherine Pawasarat
Catherine Sensei spent many years living in Kyoto Japan, and is an English speaking expert of the famous Gion Festival. Her book is an essential guidebook to an elaborate festival with with spiritual roots. 
Dharma if You Dare Podcast
Audio Dharma Teachings – Now in its fourth season
What does it take to live a life of meaning and compassion in our busy day-to-day lives? Tune in to get the knowledge and tools you need to help you tackle life's biggest obstacles joyfully … if you dare.

BITE SIZED WISDOM
WHEN YOU NEED IT
52 Weekly Reflections and other inspiration from Planet Dharma.
Awakening Now
Planet Dharma's Youtube Channel
Watch video excerpts of classes, retreats and courses given by Planet Dharma's founding Dharma Teachers Doug Duncan and Catherine Pawasarat Senseis.
Self Study Dharma Courses

Intro to AstroDharma
Awakening Through Astrology
Astrology and Buddhism?! These are two powerful tools to help us better understand ourselves as individuals, our lives, the nature of being human, and the universe around us.
Intro to AstroDharma is an online self-study program developed by Catherine Pawasarat Sensei.
Details and registration: AstroDharma Self-Study Course.
Wake Up
Four Paths to Spiritual Awakening
This is a course for those searching for deeper insights and meaning in our world. Planet Dharma's Doug Duncan and Catherine Pawasarat distill a life-changing practice into four core paths that you can apply to your home, work and relationships. Wake Up beckons to those looking for a path to spiritual awakening in the modern world. 
Details and registration: Wake Up Course

The Amazing Practice of Generosity
Dana and Generosity
This online self-study course introduces the practice of generosity (dāna in Sanskrit). Combining theory with practical examples and real-life stories, the course looks at why generosity is the foundation of a spiritual life, and the many benefits of this profound and beautiful practice.
Details and registration: Generosity Course