Japan Meditation Retreat on Huayan (Flower Garland Sutra)
March 21, 2017

-

March 31, 2017
Meditation Retreat: Huayan – Flower Garland School of Buddhism
March 21-31st 2017, Zofukuji Temple, Hyogo, Japan.

"If I had a view I could have a flaw, but emptied of all views, I am flawless."  –Nagarjuna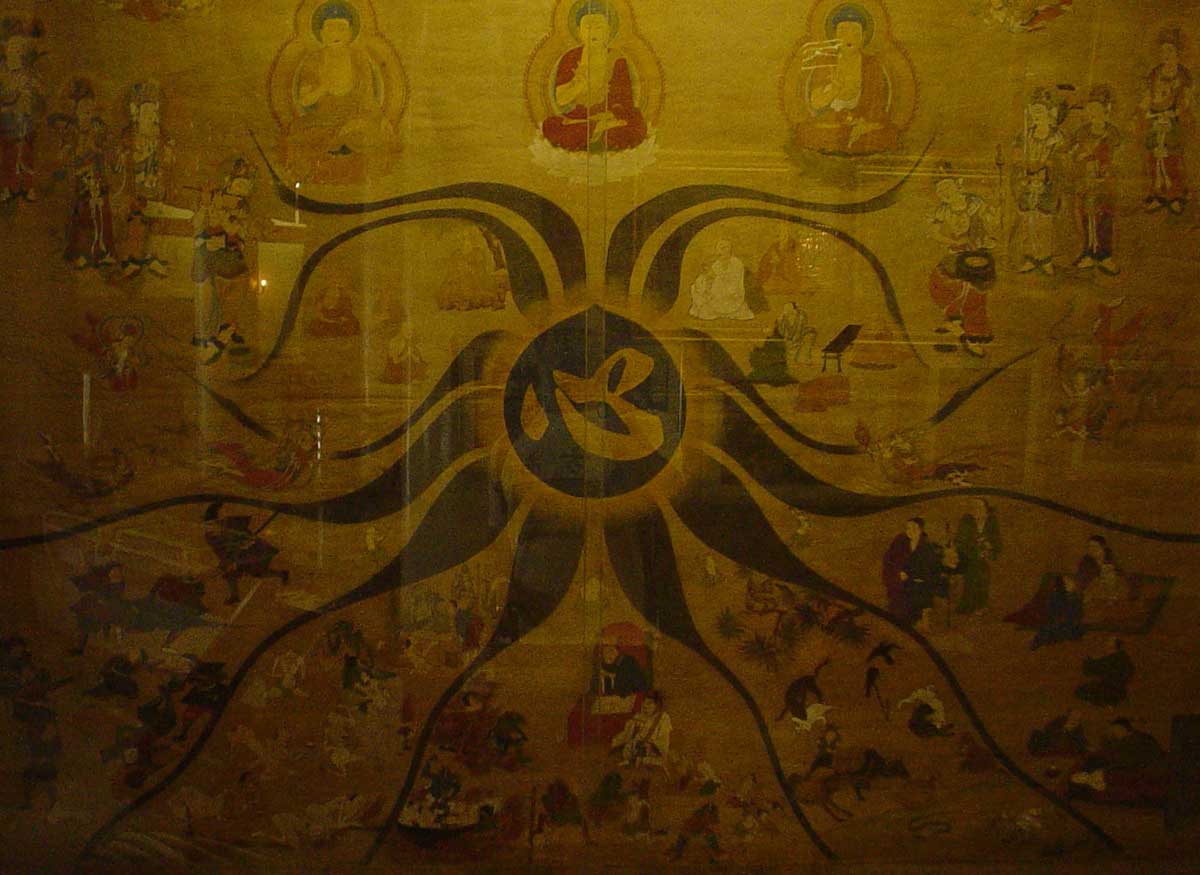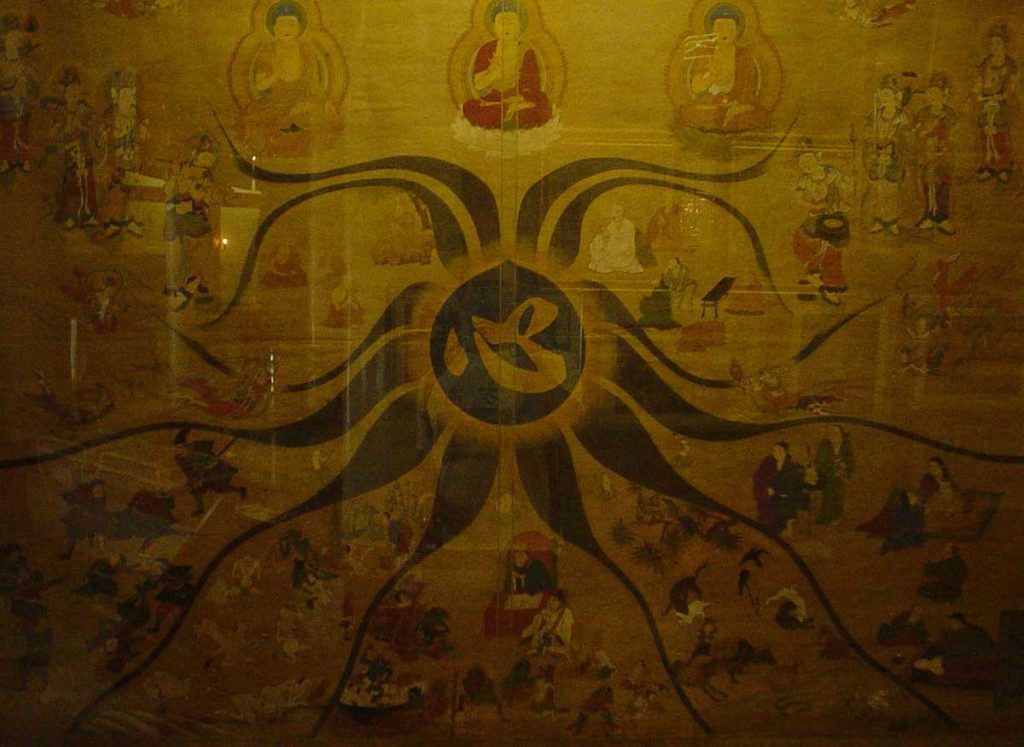 Through India, Tibet, China and then Japan, Mahayana Buddhist teachings made their voyage. Along this dharmic journey various sutras and schools came into existence based on the Buddha Shakyamuni's teachings.
In China, during the Tang Dynasty, the Huayan or Flower Garland School of Buddhism came into fruition, which later paved the way for Zen. Known as Kegon in Japan and Hwaeom in Korea, this teaching is based on the longest sutra in the Buddhist cannon, the Avatamsaka sutra, or "Flower Garland" sutra. Said to be Buddha Shakyamuni`s teaching after he became fully enlightened, the Avatamsaka sutra details the universal Buddhahood of all reality and interconnectedness of all dharmas.
Join us in a 10-day retreat with masters Achariya Doug Duncan & Catherine Pawasarat Sensei as we explore this profound sutra at Zofukuji Temple in Hyogo, Japan, March 21-31st 2017.
Course Outcomes
What will be covered in this meditation retreat?
This retreat will explore the deep mysteries of Huayan teachings and the Flower Garland sutra. This 10-day retreat will be filled with many sutra treasures that also apply the number 10. To name a few, there are books on the ten bodies of the Buddha, the ten stages of a bodhisattva, the ten acceptances, the ten concentrations, the ten practices, the ten abodes, the ten treasures, the ten dedications and to add many other teachings like, the four dharmadhatu, Sudhana`s quest,  holographic metaphors like Indra`s net, the hall of mirrors and the golden lion there is no need to wonder why this sutra is also called "the king of sutras." There are infinite possibilities of exploration and learning with this sutra!
What will this meditation retreat learning do for me?
In the Flower Garland Sutra, book 39, "Entry into the Realm of Reality" it tells the story of Sudhana and his search for truth. Sudhana shows a parallel among all spiritual seekers, it is a hero's journey and in essence, it must be done alone. Along the way he learns from fifty-three teachers from all walks of life, including Manjushri, that help guide him during his journey toward spiritual awakening.  During the retreat the teachers will help us navigate and understand these teachings so that we can apply them to our own spiritual path and spiritual learning.
One main aspect of these teachings is that the search for enlightenment in itself is an indication that enlightenment is already actively present within us.  If we come to understand this more fully, we can start to embrace the reality that everything we come into contact with or experience in life is an opportunity for learning and growth, an opportunity to become a happier, more joyful, bright, caring and aware being.  In this retreat we will be guided by the teachers, and given teachings and practices to develop this mindfulness and awareness to greater personal depths.
So what difference does being more aware make?
As humans we live in four worlds. We live in an environmental matrix of earth, water, air and fire, upon which all life depends. We live in a social world of interdependence that requires clear communication and compassionate engagement for a balanced and harmonious life, including our interactions with many other species. We live in an economic world that allocates resources and assigns values. Lastly, we live in an unseen and unnamed spiritual world.
To claim our birthright as human beings, we need to be skilled in all four worlds, particularly the last one. This last world of spiritual awakening raises our eyes from the merely mundane, so we can perceive mysterious and sublime phenomena and qualities. These nourish our souls, inspire us to gracefully navigate the challenges of the other three worlds, and generally make life worth living.
How will this meditation retreat help my life?
In Huayan practice, the tranquility meditation is used to enable us to deepen our awareness and understanding of the true nature of reality, which helps us develop inner calm and confidence.  The teachings given offer us a map and a system for greater awareness, spiritual awakening and unfolding.  This more all-embracing and widely-encompassing awareness can then be applied and integrated into our lives in the world. The integration allows us to take what we learn on the meditation cushion in the retreat back into our day-to-day lives. This enhances and embellishes our sense of accomplishment and confidence in all that we do: our relationships, our work and how we offer our gifts to the world. Supported by this powerful inner work, we're empowered to make a difference in the world during these critical transitional times. More and more we become positive role models of transformation who can wield the tools that support others to join us.
About Teachers Doug Duncan & Catherine Pawasarat:

Combined, Doug Duncan and Catherine Pawasarat have been practicing Karma Yoga and meditation for more than 60 years. They both received lay ordination from the Canadian-born Ven. Namgyal Rinpoche, and have shared teachings of spiritual awakening from their Western Canada-based retreat center, Clear Sky, and worldwide for decades.
They're well versed in Theravadin, Mahayana and Vajrayana Buddhist philosophy and practices, as well as contemporary psychology, consciousness studies and art. They are pioneering awakening through action (Karma Yoga) and generosity practices in the West, and feel proud to base their teachings and meditation retreat center on these radical and profound practices.  They lead several meditation retreats per year.
Doug & Catherine's teaching style emphasizes integration, of right-brain and left brain, art and science, East and West, and the broad spectrum of human experience. They are devoted to integrating the shadow and keeping a keen sense of humor.
The first time I met Catherine and Sensei at Clear Sky Centre for a one week silent meditation retreat, at the end I burst into tears. I found home. Dharma Trips around the world with those two cutting edge masters have also allowed me to see the world from a whole new prespective.
Maya Lewandowsky
Dāna (Generosity Based Teaching)
Doug & Catherine are teaching this retreat via the ancient tradition of Dāna (generosity), an offering from them to the attendees. It is considered of supreme value to your life and thus "beyond price" so it is expected that the student will be equally generous and support the teaching and the teachers by making an offering.
While no offering is too small, also no offering is too great. The giver benefits by offering as much as they can, given the individual's circumstances. Along with compassion, generosity is considered the root of spiritual progress and, according to the ancients, therefore the root of our success in daily life as well.
Find out more about how you can practice Dāna. We invite you to offer Dāna when you register and via the Dāna bowl available at the retreat.
What else do you need to know?
Meditation Retreat Centre Fees (Lodging & Meals)
This retreat will be held at Zofukuji Temple, Hyogo, Japan. The following retreat fee includes lodging and meals.  Please note that Dana for the retreat is extra.  Retreat Cost: 100 000 JPY
Meditation Retreat Dates, Arrival & Departure
This retreat runs from March 21st- 31st, 2017.
Participants must arrive on March 21st by 10 am.  The retreat will finish on March 31st at 3 pm.
There are limited spaces available, so please register at your earliest convenience.  If there are still spaces available, final registration will close March 4th. Contact:  Nicole Porter: [email protected].
What does a typical meditation retreat day look like?
Tentative Schedule (Subject to Change)
6:30 am: Wake up
6:45 -7:15: Meditation – setting the tone for the day
7:15 – 8:15: Breakfast
8:15 – 9:30: Dharma talk and description of the exercises to be done
9:30 -11:30 Group Lead Meditation practice
11:30 – 12:15 Meditation practice
12:30-1:30: Lunch
1:30 – 2:30: Integration (individual time)
2:30 – 4:30: Meditation practice
4:30 – 6:00 Optional Moving Meditation Practice or personal meditation practice
6:00 – 7:15: Dinner
7:15 – 8:30: Dharma Talk and Group Practice
8:30 – 9:00: Meditation Practice
9:30 – 10:00: Meditation to raise a question based on the day's events
Sign up to the PlanetDharma email list to stay informed.
And see more at our Facebook event