Events Search and Views Navigation
November 2021
Most likely, you're not currently living in Japan in a Zen monastery, or in China practicing under the tutelage of a Chan master.  So, what does it mean to practice Zen today?  How do you know if you're really practicing Zen? Dharma Teachers Qapel and Sensei spent many years practicing Dharma in Japan. Hear from them about the fundamental characteristics of a Zen practice today.
Find out more »
December 2021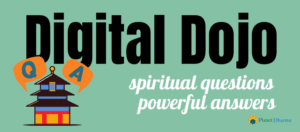 Digital Dojo is a virtual question and answer session. Asking questions to spiritual mentors is a powerful and traditional method of learning. You're invited!
Find out more »
January 2022
Uncompromising, unflinching and kick-ass dharma classes. Vajrayana Teachers Doug Duncan and Catherine Pawasarat present a new topic each month. Join online from anywhere in the world.
Find out more »
+ Export Events