Wake Up: Four Paths to Spiritual Awakening
Introductory Online Course | Free Enrolment COMING SOON
Wake Up is 'moving house', it is in the process of changing online platforms and will be relaunched soon. Stay tuned.
This is a course for those searching for deeper insights and meaning in our world. Planet Dharma's Qapel [Doug Duncan] and Catherine Pawasarat Sensei distill a life-changing practice into four core paths that you can apply to your home, work and relationships. Wake Up beckons to those looking for a path to spiritual awakening in the modern world. 
Course Overview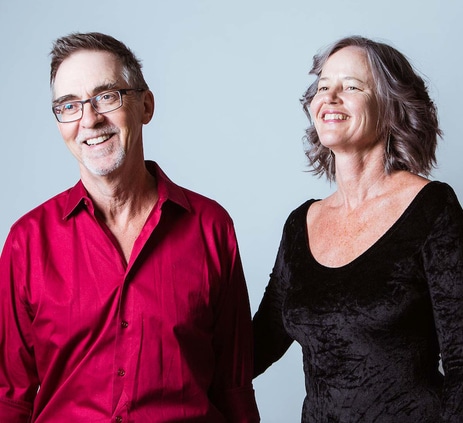 Why this Course?
This program is an exploration of greater purpose and meaning in life. Offering straightforward exercises, this course is an opportunity to step out of your comfort zone and discover freedom, meaning and transcendence. As in everything we offer, Wake Up is founded on our mission of benefitting all beings.
Qapel and Catherine Sensei outline practical approaches for experiencing spiritual awakening in this lifetime. Each unit explores one of our core pillars and provides exercises that participants can use to embark on or deepen their journey towards awakening.
It has been sheer joy to be a participant in one of Planet Dharma's [online courses]. They made the practice come alive for me and accessible and pertinent to my every-day life. 
Fabulous mindfulness teachers, presenting a variety of accessible tools for unfolding, in a mutual, community inspired way. Increase the awareness, compassion, wisdom, strength, and joy in your life!
[The online classes] are a fantastic tool for me to not get completely lost in Samsara throughout the year, especially because I don't live in Canada and cannot be with the teachers so often. I still felt very connected and supported by the Lamas and Sangha. As a result I became much more aware of my state of mind than I would ordinarily. 
Overview
What to Expect
This course is for those who are ready to integrate spiritual awakening with the modern world. With short videos and practical exercises, this course applies to daily life and bigger questions about the meaning of life. 
Participants can spend as much time and go as deep as they're comfortable with in each exercise. 
Doug and Catherine work with students using multiple approaches, including meditation, study and integrating the shadow. This course introduces these approaches, providing participants a taste of each integrated with student stories and accessible exercises.
With more than 60 years of combined dedicated study and practice on the path of awakening, course teachers Doug Duncan and Catherine Pawasarat are Dharma teachers in the Namgyal Rinpoche lineage.
We'd love to be a part of your journey. Questions and comments are welcome on our Facebook page.
Curriculum
Program Details
Through this course, you will:
Understand what is meant by 'spiritual awakening'
Learn about 4 proven approaches (or paths) that work and which one(s) might be a fit for you
Have a chance to try various exercises to experience a taste of the different paths discussed
Learn various ways to extend the material that resonates with you
Teacher Bios
Course Teachers Achariya Doug Duncan and Catherine Pawasarat are passionately committed to support beings who aspire to spiritual awakening in this lifetime, and to leveraging the power of awakening to benefit all beings. They believe that what's needed in our modern, Western culture are spiritual awakening practices that embrace both who we are and the modern culture in which we live.
Achariya Doug Duncan has been teaching the Buddhist path to awakening for over three decades. Known for his direct and compassionate engagement with students, Doug embraces the full spectrum of the various traditions he employs in order to mentor beings to a more awakened state.
Since the early 2000s Catherine Pawasarat has provided dharma training and taught the path of awakening to hundreds of students, together with Doug and on her own. In addition to Buddhist philosophy and its applications to daily life, Catherine also draws on generative living (a.k.a. sustainability) and the arts.
Doug and Catherine are lineage holders in the Namgyal tradition and co-founders of both Clear Sky Retreat Center in the BC Rockies and Planet Dharma. Having lived overseas for many years and traveled extensively, Doug and Catherine draw on intercultural and trans-cultural experience to broaden the range and depth of their understandings of liberation that they share with others.
FAQs
When does this course start?
This is a self-study course. You can start at any time you like and you will have access to move freely through the materials at your own convenience.
How long will I have access to the course?
You will have access to the videos and course material for one full year from the date of enrolment.
How does online learning work?
In this program, we open the entire curriculum to you immediately upon your registration. You can proceed with the course material at your own pace, whatever works best for your schedule. Once a module opens it is available 24/7 for the duration of the course so you can access the content as often as you like.
We're here to support your journey and our team is ready to answer any questions you may have. Our goal is to help you feel fully comfortable with the experience.
Free Enrolment COMING SOON
Awakening today.
We offer an ever-evolving modern spiritual path for committed, courageous seekers.
Explore the teachings three ways below:
Bite Sized Wisdom to inspire your week