A spiritual path is a bit like a path up a mountain. You know you want to climb to the summit and enjoy the view, but you're not sure which is the best path to take. And there's no way of knowing what the view will be like, until you get there. Nevertheless, people have told you it's worth the effort of the climb.
Awakening in this lifetime is truly possible- if you are willing to jump in and find out what that really means. If you have a heart for change- a heart for awakening, Doug Sensei and Catherine Sensei can skillfully guide you to that which your heart truly seeks.
These teachers, on an ongoing daily basis, are offering me training to improve my life in such a way that not even top consultants can do. Journeying with me, willing to get in deep with me in ways that are awakening for me: from leadership training to meditation techniques to home decor. There is no area they will not go if it is for my unfolding! A deep bow in gratitude and respect!
The first time I met Catherine and Sensei at Clear Sky Centre for a one week silent meditation retreat, at the end I burst into tears. I found home. Dharma Trips around the world with these two cutting edge masters have also allowed me to see the world from a whole new perspective.
Our path includes many routes up the mountain as well. So this page is to tell you where you can start, and why, so you can make the choice you're most comfortable with. If you're here, we figure you've already clicked around this website. If not, that's a good place to start.
A good next step might be to read their new book, Wasteland to Pureland, and initial Doug's book, Dharma If You Dare. It gives a good taste of our teachings and style.
If you'd like to interact a bit more, we suggest you sign up for our email list, like our Facebook page or YouTube videos in order to find out more, on an ongoing basis.
A next step might be to attend & participate online in our Office Hours – live or recorded. This will give you an idea of how we work with different people, how virtual teachings happen, and give you the opportunity to ask any questions on your mind.
Next you can see our schedule, to learn what we're teaching, where and when. We're currently teaching mostly – though not exclusively – in Western Canada (particularly at our truly wonderful retreat center, Clear Sky) as well as online for people who can't make it here easily.
Lastly, if you have a personal question you'd like to ask, and don't feel comfortable asking it during Office Hours, you can connect with us on the Inquiries page.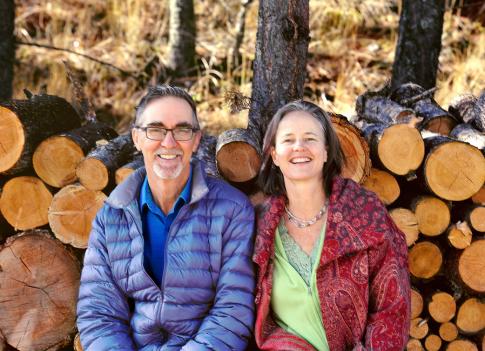 I asked Doug Sensei to be my teacher after only spending 3 short weekends with him over the course of several months. Why? Because the growth and unfoldment I saw in myself immediately after each of these weekends was so huge. Throughout my training with Catherine, I never cease to be amazed at the level of compassion and commitment she has for my unfoldment.
My teachers have been continuously studying and guiding students in their innovative retreats for over 30 years. It might be time for you to stop moving so much, to be still and to explore some cutting edge teachings that will radically shift your reality. To my teachers I say thanks for your patience and for doing your own work. Your reach is vast! I bow down!
Do it – you will never regret it, if you seek openness, clarity and love in your being. Sitting in the light of clear mind – without being troubled by distracting thoughts and verbalisation was utterly beautiful and blissful. All thanks to the depth of the teaching and the support of the sangha and the residents at Clearsky.
Awakening today.
We offer an ever-evolving modern spiritual path for committed, courageous seekers.
Explore the teachings three ways below: