Calgary Teachings: Conscious Livelihood
March 11, 2017

-

March 12, 2017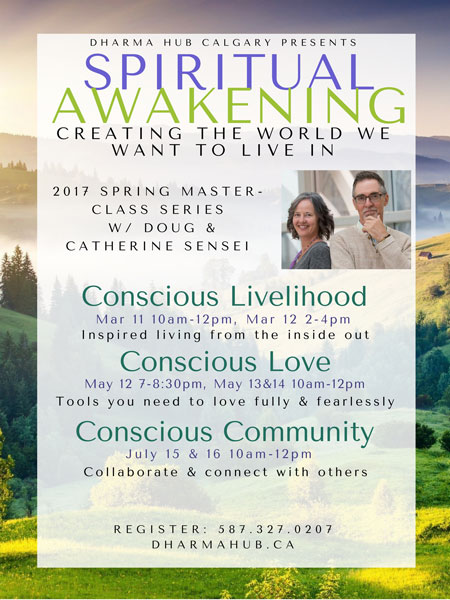 Join Dharma Teachers Doug Duncan and Catherine Pawasarat in Calgary, March 11-12 for a weekend of teachings on how to live one's life in a state of inspiration, deep satisfaction and well-being.
Conscious Livelihood:  Inspired Living from the Inside Out

Saturday March 11: 10am-12pm
Sunday March 12: 2pm-4pm
Contemporary society and the consumer marketplace offer mostly an empty substitute for a life well lived.
Conscious (or Complete) Livelihood means learning to live in accordance with deeper truths. When we uncover these truths for ourselves through meditation, mindfulness and applied awareness in our day-to-day lives we find that real satisfaction was always within our grasp.
Conscious Livelihood directs our aspiration to a radiant, blissful state of being. By seeking the best state of being, and the best supporting conditions to do so, we uncover for ourselves a new, more holistic and inherently satisfying vision that invigorates our life with purpose and meaning.
From this state we naturally explore and develop sustainable lives that serve the planet and create the world we truly want to live in.
For full details & registration, Please visit Dharma Hub Calgary: Conscious Livelihood.
—
Conscious Livelihood is the first part of a three part series in Calgary, 2017.
Conscious Livelihood: Inspired living from the inside out
Conscious Love: Tools to love fully and fearlessly (May 12-14)
Conscious Community: Collaborate & connect with others (July 15-16)
Sign up to the PlanetDharma email list to stay informed.