Talk at Banyen Books: Transform Your Shadow with Astrology & Dharma
April 17, 2018 @ 6:30 pm

-

8:00 pm

MDT
Transform Your Shadow into Strength: A Talk at Banyen Books, Vancouver
with Catherine Pawasarat

Join us for an evening talk at Banyen Books on how you can transform your shadow aspects into strengths.  This will be a fascinating introduction to how Buddhist philosophy or Dharma can be combined with Western astrology.
What is the shadow?
What is the shadow and why is it viewed negatively?
Often seen as our dark side, the shadow is the unconscious part of our ego. It often contains unpleasant aspects of ourselves – aspects that we don't see or avoid looking at altogether. We each possess a shadow that's unique, though there are common themes.
What we can do about our shadow
So what can we do about our shadow? AstroDharma, the combination of Buddhist philosophy and Western astrology, helps us to identify, understand and transform these shadow aspects into strengths. Transpersonal astrology helps us identify the pros and cons of different Jungian archetypes as identified by astrological signs and planets. Buddhadharma gives us tools to work with these energies to cultivate compassion, loving kindness and wisdom for a more peaceful and joyful life that benefits all beings.
AstroDharma can make the shadow less intimidating, less personal, less upsetting, while empowering us to work with it constructively. This lens allows us to break away from the idea that it is about "me and my dark side", and open up to a wider view.
Come and discover the potential that awaits when we have the courage to explore and transform the hidden parts of ourselves. When used skillfully, this lets us get more familiar with our shadow aspects in a real but objective way. By accepting our dark side, we can transcend it.
At this talk at Banyen Books you will learn:
• Which astrological signs, planets and houses may hold shadow aspects of ourselves
• How the downside of the shadow aspects can be transformed into skills and beneficial qualities
• What this means for you and your natal astrology chart.
About the Teacher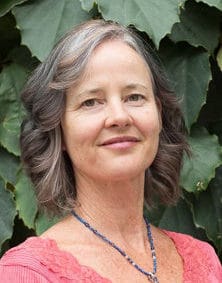 Catherine Pawasarat began her spiritual practices in her early 20s as a student of metaphysics, the ayahuasca sacraments, astrology and other Western spiritual traditions. After graduating from Columbia University, she commenced a twenty-year residency in Japan.
In 1998, Catherine began an intensive spiritual apprenticeship that is rare in the modern West. Studying under Acariya Doug Duncan, she underwent rigorous daily training in Buddhist meditation and philosophy. Catherine has studied and taught Dharma in remote areas of Antarctica, Brazil, Bhutan, and Guatemala. In 2005, Catherine and Doug co-founded Clear Sky Retreat Center in the BC Rockies.
For almost 20 years, Catherine has provided Dharma training and taught the path of awakening to hundreds of students. In addition to Buddhist philosophy and its applications to daily life, Catherine also draws on generative living (a.k.a. sustainability) and the arts.
She sees Dharmic Astrology as a beautiful pairing that grounds the ancient tool of astrology in the transformational path of Dharma. Catherine will teach on spiritual Awakening Through AstroDharma at Hollyhock July 4-8, 2018.
Studying with Catherine has been incredibly beautiful, challenging and transformative. Her compassionate and generous teachings show me a new expansive way of being. She is an inspiration in all ways.  — Ava Maclean, BC
Talk at Banyen Books Details:

Date: Tuesday, April 17, 2018
Time:

6:30pm

 to 

8:00pm
Location: Banyen Books & Sound, 3608 West 4th Ave., Vancouver