Meditation Retreat: Becoming a Work of Art
March 30, 2018

-

April 2, 2018
A Meditation Retreat to Build your Foundations: Easter Long Weekend 2018

"Better to be a work of art than make a work of art." – Namgyal Rinpoche
Is the Buddhist body of practice or philosophical canon somewhat new to you? If so, this course will provide you with fundamental resources around which to develop a practice for the rest of your life.
Every meditative practice in our tradition, at some point, comes back to the Paramis, also known as the six perfections. These form a flawless path that carries us straight to spiritual enlightenment. It's simple, beautiful, and powerful. Join us for this three-day weekend to get you squarely and joyfully on this path.
Why Becoming a Work of Art?
Would you rather create one work of art or become a work of art? In a culture that values external achievements, we often forget the hidden gem inside us. This gem creates bliss, wisdom, and radiance, and it is fiercely worth growing.
Let your internal works of art flourish during our three-day retreat this Easter Long Weekend. Led by Dharma Teachers Doug Duncan and Catherine Pawasarat, it is a perfect time to embrace springtime and nurture your inner potential.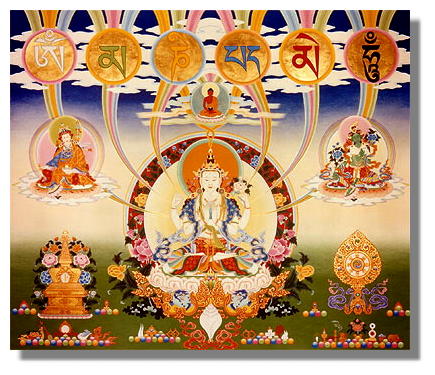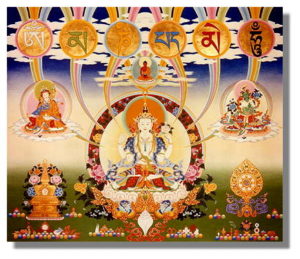 During this retreat, we will study six aspects of consciousness that we may cultivate to become our own inner and outer works of art. These six aspects are called the paramis in Sanskrit, and have been taught in the buddhadharma for more than two thousand years.
This retreat has a powerful experiential meditation component – participants will receive an initiation to the Chenrezi practice.  Chenrezi is a form of 'arising yoga' from Vajrayana Buddhism. It is a principle practice of compassion that will give you full mind body experience of the Paramis.
The paramis are qualities that we grow to feel internally grounded and to act from a positive, wholesome place in our relationships with others. They help us reside in a clear, calm, and loving place, while becoming more curious and absorbed with our inner and outer worlds. With these qualities, happiness and beautiful works of art shine.
Who is this course for?
Because we are active people with busy lives, it is common to feel like we can't take the time to get grounded. This affects how we work, play, and relate to each other. As the saying goes, "when you're up to your neck in alligators, it's hard to remember that your original intention was to drain the swamp."
This short course is designed for those of us who feel challenged around making the time.
We'll explore how to cultivate mindfulness as we go about our daily lives. As our relationships and professional lives blossom, we're of greater service to ourselves, our communities, and the planet.
This retreat is intended to create a work of art that is founded in an abundant and durable happiness … even when there are 'gators nipping at our heels.

Note: These are universal teachings open to people of any faith, or with no particular faith.
Course Outcomes:
Learn to be more generous with ourselves and others, materially, emotionally and mentally.
Develop a greater sense of ease around thorny emotional issues.
Cultivate greater patience in the face of life's ongoing challenges.
Open more energy through less resistance rooted in fear and mistrust.
Find greater calm and focus based on a clearer sense of one's place in the world.
Discover a closer connection to the wisdom inside us that arises from the development of the above outcomes.
Register Now


About the Teachers: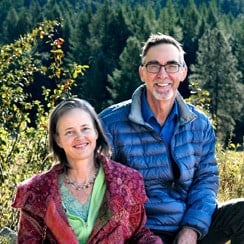 We encourage everyone to find the "teacher within" that we can be. But, for almost everyone, we need to apprentice before we can master. Doug Duncan and Catherine Pawasarat apprenticed in the teachings of awakening for decades with their teachers. Between them they have been teaching for more than 30 years.
Their explorations and teachings are guided by four principles: spiritual growth, social connectivity, economic sustainability and environmental integrity.
Doug & Catherine teach from various wisdom traditions – including buddhadharma, Western Mysteries, modern science, art and nature – based on broad interests and a non-judgemental approach. We've lived and worked overseas for many years, and a planetary outlook is important to us. So is humour! Read more: Full Bios.
Watching how everyone engaged and getting new insights and a-ha moments brought home to me that karma yoga and dharma training is a path that brings the modern spiritual explorer alive and moves them forward.
Dr. Duncan Cryle
Ph.D IBM executive, Clear Sky Accountability Officer
Doug and Catherine Sensei demonstrate how every encounter in our lives is not only a litmus test that shows if we are acting with compassion or not, they hand us the polish for the silver that we can use to rub away the tarnish of our egocentric mode of perception to reveal the inherent sparkle of a compassionate heart and mind.
Richard Sadowsky
Translator, Japanese to English
The first time I met Doug & Catherine Sensei was at the Clear Sky Center, BC as a Karma Yogi (volunteer). Despite being new to the teachings, despite my past, despite my attitude they welcomed me and created space for me to connect with everyone. I know they see Buddha Nature in everything and welcome it with a warm heart.
Maryline Fortier
Business Student
Teachers suggest, guide and train - the student's responsibility is to get involved and be willing to dance.  I accepted that opportunity to dance, the opportunity of a lifetime, and with such excellent dance partners (Doug and Catherine) I have thrived in my unfolding.
Maureen Smith
Doug and Catherine Sensei are living examples of the dharma teachings. For me, their teachings give me a place to begin to apply the dharma in my own life. I trust in their one-pointed focus on whatever it takes to speed their students unrealized potential.
Laura Montgomery
Counsellor and Mom of two
Precious and few are the teachers that have the charisma and skillful means to genuinely awaken us to the depth of our own TRUE NATURE!
Wendy Stauffer
Doug Sensei and Catherine Sensei demonstrate and challenge us to recognize that nowhere is the Awakened mind not present or available to us. They model and challenge us to be ruthlessly self-honest, practical and to work together to build and shape healthy communities and relationships in all that we do.
Michelle Heinz
I have been fortunate to meet Doug and Catherine, who through compassion and skillful means helped me to courageously face all my demons, fears and blindspots. I have come through into a lighter manifestation to be of real service to all beings.
Karen McAllister
Transformational Change Coach
Doug and Catherine Sensei have a complimentary teaching style that empowers me to take on life's numerous challenges. Thanks to their guidance, I understand the role of fiery masculine energy and how to integrate it with softer more receptive earth feminine energy. They are Yin and Yang in human form. I could not ask for a more complete or effective spiritual teaching.
Evangelos Diavolitsis
Doug and Catherine's ability to translate the heart of the Buddhist teachings into wisdom that is relevant and applicable in today's world mean that their teachings go far beyond theory to have real impact on lives. The crucial balance of care, support, insight and challenge they have offered me has been instrumental for a greater experience of love, connection and aliveness in my life. My deepest heart thanks go out to them for all that they have done for me and all beings.
Ruth Levin
Choreographer & Dance Teacher
As a result of studying with Doug and Catherine, I'm more awake: I have more clarity, compassion, and calm. These characteristics have made me a better dharma student, dharma teacher, parent, friend, colleague, manager and leader.
Lynn Hauka
Management Consultant
When I am with these two very clear individuals, I am humbled by their dedication to others, and understand the every-waking-moment responsibility that comes with their calling.
Peter Ujlaki
Art Dealer, Japan
I came to Clear Sky after years of wandering on the path of self-transcendence; I was trying to do it by myself and it just wasn't working. Dharma Teachers Doug & Catherine immediately saw my self-imposed limits and provided me with clear, direct instructions on how to really accelerate growth. After putting my personal preferences aside and deciding to work with awakened teachers I have become far more focused and clearer than I could ever have been on my own.
Matt O'Rourke
Hydro-Engineer
Doug Sensei and Catherine Pawasarat have woven together a finely-textured tapestry of Buddhist Philosophy that has made the basics of the practice come alive for me and accessible and pertinent to my every-day life.
Ronda Clanfield
Resources Specialist, CBC National TV News (retired)
I attended the Buddhas in Action two week retreat at Clear Sky Retreat Centre with Doug Sensei and Cata Sensei. The teachers are taking the dharma teachings forward in a way that speaks to our modern lives today without losing their integrity.
Karen McAllister
Money & Transformation Coach
Doug and Catherine Sensei are masters in every sense of the word. They live and walk their talk. Whoever said you can't have your cake and eat it too, never met these two brilliant teachers. All is possible when you are with the awakening mind!
Evangelos Diavolitsis
Thank you again for all the teachings! They have impacted my life in such a positive way that it is unexplainable with words 🙂
Irene Arriaza
To my incredible teachers, Thank you for your unwavering compassion, patience and wisdom. And thank you for the opportunity to learn from you and to join you on this Dharma trip. I love you both from the platform, to the edge of the universe. And will show that love by doing the work! For the benefit of all beings.
Ava MacLean
Marketing and Communications Professional
Doug & Catherine are continuously pushing the envelope of experience, often with irreverent humour in challenging others to do the same & doing so with heart for Dharma that isn't afraid to think outside the box.
Martin Blackwell
Operations Manager, Clear Sky Center
If you get a chance to study with Doug-sensei and Catherine, don't miss it. Through the power of long dedication, deep meditation, and wise guidance, life can definitely be transformed.
Paul Jaffe
Retired Professor & Meditation Teacher
This experience has been incredibly beautiful, challenging and transformative. The teachers are an inspiration in all ways.
Ava MacLean
Marketing and Communications Professional
The teachers offer me training to improve my life in such a way that top consultants cannot do. They have journeyed with me through surgeries and vertigo, from fashion choices to home décor, and ultimately, through leadership training and meditation techniques. There is no area they will not go if it is for my unfolding!
Maureen Smith
Doug and Catherine have a wonderful relaxed interplay. Even though they have different personalities, they demonstrate how to work together without conflict. Working in the kitchen brought many personal issues to light which I could then examine more closely during the meditations. Many times during the morning teachings I felt Sensei's teachings resonate so deeply I was transported to a different awareness and feeling state.
Dean Nicholson
This retreat was right on the mark, a perfect blend of focused inner work along with space for reflection in a trusting and comfortable setting. The teachers were wonderful, insightful, humorous, and extremely attentive to our individual needs for understanding. The journey has opened access to undiscovered strengths in myself and I could not be more thankful.
Ryan Gies
Manager of Software Engineering
Cata and Doug Sensei teach their own brand of profoundly sensible Dharma.
Richard Arnfield
It is one thing to hear or read the Dharma and understand it intellectually. This workshop went so much further than that, as I found myself receiving realizations of the teachings on a visceral basis, going far beyond simply understanding.
Bob Abramms
Doug, Catherine & the community around them are phenomenal teachers, supports and guides. I've never seen any therapy and meditation teaching that goes to such depth, one on one and in community, anywhere else.
Cara Conroy-Low
The first time I met Catherine and Sensei at Clear Sky Centre for a one week silent meditation retreat, at the end I burst into tears. I found home. Dharma Trips around the world with those two cutting edge masters have also allowed me to see the world from a whole new prespective.
Maya Lewandowsky
Sensei and Catherine's teachings have helped me create a spaciousness in my being to find generosity, abundance, and energy with my self and my potential. I am immensely grateful to them for their patience and love and personal connection to my growth and unfoldment.
Linda Hochstetler
Working with Doug and Catherine at the 5 day hero's journey workshop was deeply impactful and has clarified for me not only my deepest heart's desire but what I need to face and overcome to manifest it. Doug and Catherine are extraordinary facilitators with a great depth and breadth of knowledge, wisdom and presence to share.
Kira MacDuffee
M.Ed / RCC
This course is open to all experience levels
We work with beginners and advanced participants alike, and mold our teaching to the readiness of each student.
Each student sets the pace and scope of their own development. We do encourage you to stretch your comfort zone so that it becomes broader, and so you enjoy maximum benefits of the course.
The schedule is very accessible (see below for details).
Our teachers and staff are friendly and well trained, and have supported many people in becoming ever-evolving works of art.
What's expected from me if I come to this course?
Come with an open and engaged attitude.
Participate in the program as fully as you're able.
Foster and maintain an atmosphere of trust and acceptance in the group-learning environment.
Refrain from reading, using the internet or listening to music during the course (except journaling and assigned reading).
Participate in Karma Yoga[1] service at Clear Sky (maximum of two hours daily).
Support the teachers and teachings through the practice of dāna.
Why come to Clear Sky: Experience the difference:
Know what it is to truly unwind, surrounded by pristine, tranquil nature.
Enjoy fresh air and wholesome food, with an emphasis on organic and locally sourced.
Experience the support of a community that exists to help you reconnect.
Be part of a working and awakening community that practices what it teaches.
You'll both reinvigorate and integrate what you learn into your daily life.
Share the learning and growth with other participants, making new friends who are also on a path of spiritual unfoldment.
Connect to the teachings that have enlivened humanity over centuries (regardless of religion).
What else do you need to know?
Dāna (Generosity Based Teaching)
Doug & Catherine are teaching this meditation retreat via the ancient tradition of Dāna (generosity), an offering from them to the attendees. It is considered of supreme value to your life and thus "beyond price" so it is expected that the student will be equally generous and support the teaching and the teachers by making an offering.
While no offering is too small, also no offering is too great. The giver benefits by offering as much as they can, given the individual's circumstances. Along with compassion, generosity is considered the root of spiritual progress and, according to the ancients, therefore the root of our success in daily life as well.
Find out more about how you can practice Dāna. We invite you to offer Dāna when you register and via the Dāna bowl available at Clear Sky.
Meditation Retreat Centre Fees (Lodging & Meals)

This meditation retreat will be held at beautiful Clear Sky Meditation Centre. Fees which include lodging & meals range from $350-$550 CAD. Sign up before February 27th, 2018 and take advantage of Early Bird savings on accommodation & meals.
-Friday, March 30, 7pm – 9pm
-Saturday, March 31, 7am – 10pm
-Sunday, April 1, 7am – 10pm
-Monday April 2, 7am – 1pm
Book early for this long weekend meditation retreat. All registrations and inquiries can be made via the Clear Sky Registration page, by clicking the Register Now button below:


Notes:
[1] Karma Yoga is our practice of awakening in action. It may entail supporting the center and participants in the area of nourishment, environmental services, land management or infrastructure.
Sign up here to be notified about any updates regarding this retreat and other Planet Dharma news.
Related Events