Calgary Teaching: If You Want the Present, You Have to Open the Box
April 13, 2016 @ 7:00 am

-

8:30 pm

MDT

If you want the present, you have to open the box.
Public Teaching by Achariya Doug Duncan:
April 14 2016, 7pm-8:30pm

Doug Duncan – a Canadian-born teacher with an eclectic approach and eccentric sense of humour – will share some teachings based loosely on the Buddha's fire sermon. In this discourse, the Buddha compares the process of spiritual 'Awakening' to liberating people struggling uncomfortably in a burning house while preoccupied with their toys (we're not making this up!). In an attempt to lure these endangered souls out of the fire and into safety, he first offered them freedom from fire. Apparently the toys were more engrossing, so the Buddha used 'skillful methods' to save them: he offered them even more wonderful toys outside with him, free from the fire and associated danger.
The present – the here-and-now – is a wonderful toy. But we have to get out of the burning house to untie the ribbon, tear off the pretty paper, and open the box! Doug will share how we can do this, and enjoy doing it, during our busy modern lives. Nothing less than spiritual awakening is the inevitable result.
About The Teacher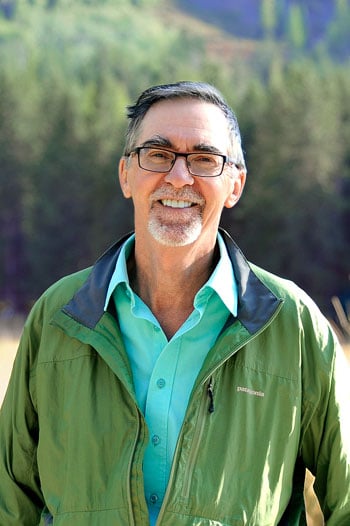 Achariya Doug Duncan has been teaching the Buddhist path to awakening for over three decades. In 2005, Duncan founded Clear Sky Meditation Center in Cranbrook, BC. He continues to travel around the world leading retreats and classes with his partner and co-teacher Catherine Pawasarat.
Known for his direct and compassionate engagement with students, Doug embraces the full spectrum of the various traditions he employs in order to mentor beings to a more awakened state. His great sense of humour, caring attitude and sometimes very direct involvement makes him an effective catalyst for opening the shadow, for very practical application of the teachings, for humorous and gentle relief when tensions mount and through a diverse range of explorations expands the teachings to include all aspects of life. More about Doug Duncan Sensei.
Dāna
This teaching is offered by Sensei as a form of Dāna (traditional generosity giving) and likewise, attendees are asked to reciprocate generously to the teacher. There will be a Dāna bowl available at the foyer of the Dharma Hub for you to give your offering.  More information: Dāna Guidelines and Practice. 
Administration Fee: The Dharma Hub will be charging a $10 administration fee for the class, which does not go to the teacher.
Details:
Time: The class will start at 7pm, please arrive 10 minutes early so we can start on time.
Location: Dharma Hub Calgary is located at 2232 Bowness Rd, NW in West Hillhurst (near Kensington, not in Bowness).
For registration & to pay the administration fee online, visit the Dharma Hub website for full details.