Karma Yoga, The Path for the Western Mind: Toronto
November 18, 2015 @ 7:00 pm

-

9:00 pm

EST


Hands up if you want to awaken in this lifetime and fully realize your potential as a human being, transcend suffering and attachment and help make the world a more compassionate place?
Keep your hands up if you are able to do a 3-month retreat once a year where you can live in silence and engage in formal meditation for 20 hours a day. For those who still have their hands up: happy meditating!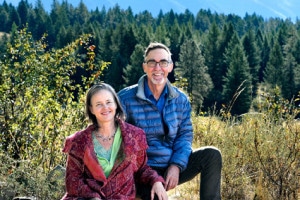 For the rest of us, there is another path to unfoldment and awakening: The Path of Karma Yoga. This path requires much less time on the cushion and gives us the ability to leverage the busy-ness of our modern lives into a tool for transformation.
Doug Duncan, meditation master and dharma teacher, awakened through the path of meditation, but also received extensive training in the path of service (aka Karma Yoga). He and his partner, Catherine Pawasarat, currently teach extensively through this path. They have developed one of the world's pre-eminent KY training facilities at their retreat centre, Clear Sky, in the BC Rocky Mountains.
What is Karma Yoga?
Doug calls Karma Yoga, "The Path for the Western Mind". The typical westerner is so fully in and of the world that while silent retreat work is therapeutic and important, the chances of spending enough time silently watching the mind is unlikely to lead to a major breakthrough on its own. Rather than try to rely fully on the 10% of our time we are "away" from the world, why not try to also fully leverage the 90% of our time we spend engaged in activity?
Karma Yoga embraces this activity and transforms it into the ultimate mindfulness activity: by shifting our relationship with our work, we unlock its ability to produce insight and to clear unwholesome karma.
Toronto Event Details
Join Doug Sensei at the Centre for Social Innovation for an illuminating talk on how Karma Yoga can transform the actions of your daily life into transformative experiences that unlock greater and greater degrees of freedom.
Location: The Centre for Social Innovation, 215 Spadina Ave., 4th Floor
Time: 18th of November, 2015 at 7-9pm
Cost: $20 at the door ($15 in advance), plus dāna for the teacher