Zen Sutras in the 21st Century
June 6, 2022

-

July 3, 2022
Zen Sutras in the 21st Century
Online Course| June 6 - July 3, 2022
Early Chan (Zen) Buddhism was a Chinese interpretation of the Theravadin Sutras from a millenia prior.
This course shares the highlights from key Zen Sutras of Mahayana Buddhism, and how we might now apply the Zen Sutras in the 21st century, 2500 years after the time of the historical Buddha.
Overview
Registration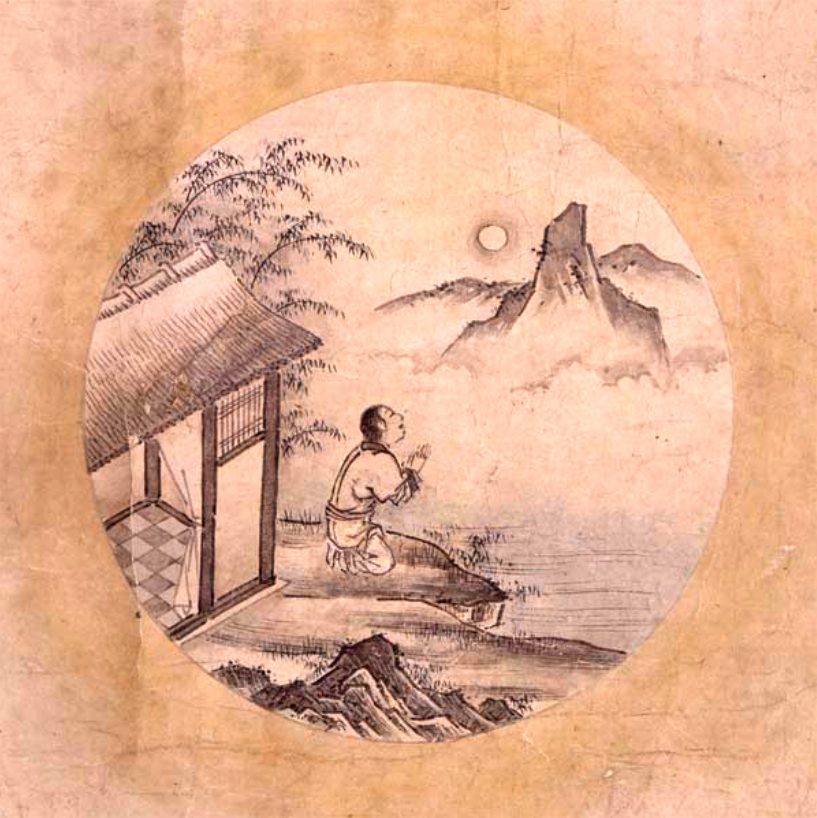 Zen Sutras – An Online Course
Zen – we love the show – Zen practice and Zen teaching grabs everyone's attention. But what is often not recognised is that the underpinning of Zen are the Theravadin sutras taught by the Buddha 2500 years ago. Those ancient sutras were reinterpreted for Chinese culture a millenia later and this was the birth of Chan Buddhism, later Zen Buddhism in Japan.
So what is the new interpretation of the Zen sutras today?  How do these 500 BC teachings relate to 21st century life?
In this four week online course, Qapel and Sensei will share the essence of Zen wisdom from a handpicked selection of sutras highly important to the Zen or Chan traditions. These sutras include:
Avataṃsaka Sūtra – Flower Garland or Hua Yan Sutra
Laṅkāvatāra Sūtra
Vimalakīrti Sūtra
Vajracchedikā Prajñāpāramitā Sūtra – Diamond Sutra
Prajñāpāramitāhṛdaya – Heart Sutra
Śūraṅgama Sūtra
The Platform Sutra of the 6th Patriarch – Liùzǔ Tánjīng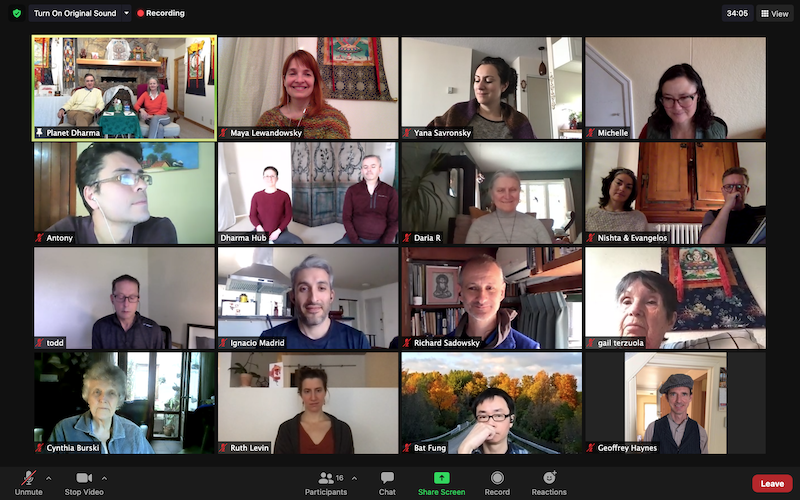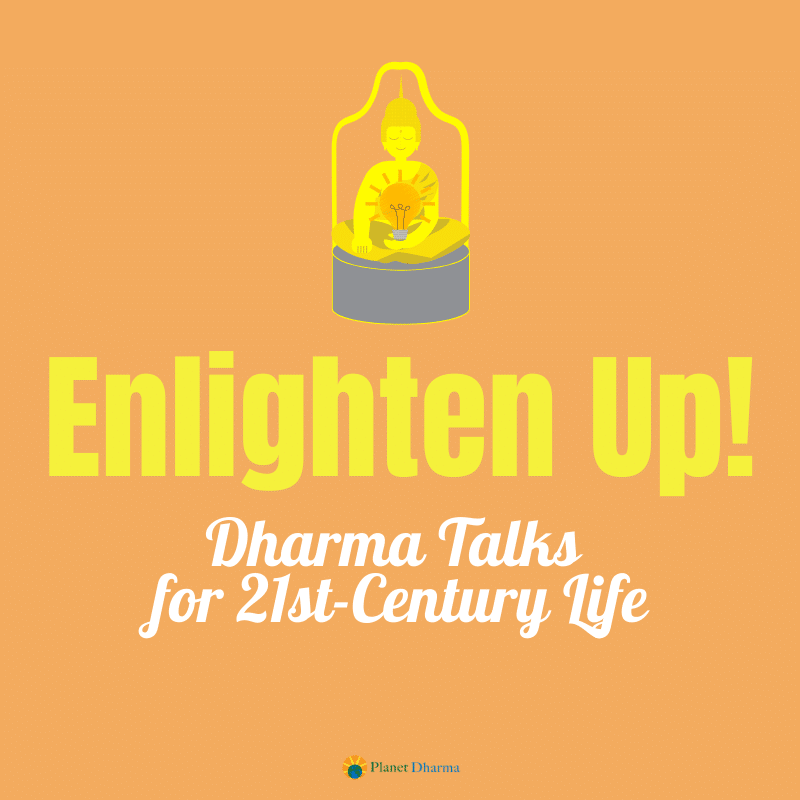 Enlighten Up! Zen Sutras
Join the monthly Enlighten Up! on May 15 2022.  It will feature a talk by Qapel on the Zen Sutras as a taster for this comprehensive course.
How Zen Masters Teach
Video: Four Steps to Liberation
What is the essence of Zen Teaching?
Qapel (Doug Duncan) explains the four-step process that a Zen master employs spontaneously with their students to help them break free of conditioned thinking.
Course Schedule
JUNE 6-27, 2022
Zen Course Class Dates, 7:30pm MST:
Monday June 6th
Monday June 13th
Monday June 20th
Monday June 27th
To deepen and integrate your experience, we are also offering three optional weekly Master Classes (Sundays June 12, 19, 26) during the course and an at-home Flash Retreat July 1-3.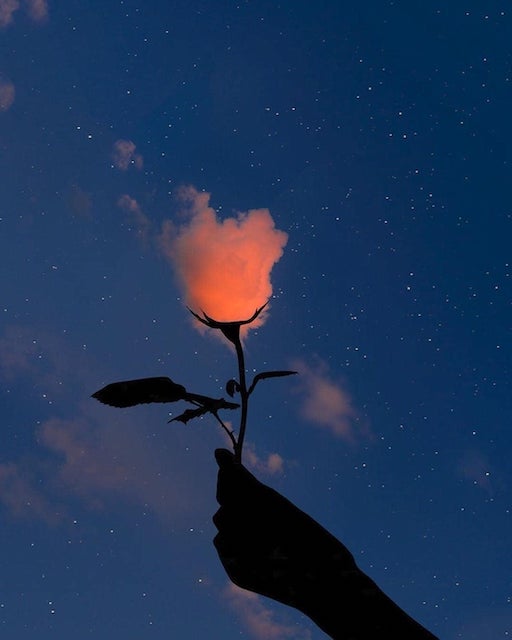 Studying Zen, Experiencing Zen
The Buddha used a simple flower as a teaching of the profound nature of things as they are: so uncomplicated, so immediate, and so very difficult to explain.
So, you might ask, why bother explaining? Why study this? When instead we could just realize it ourselves, like Mahākāśyapa?
We explain because our conventional minds are clouded by ego clinging. This often manifests as conflicting emotions and prejudicial views, both considered forms of ignorance or confusion about reality.
For centuries Zen masters having been holding up flowers and students have been caught in this confusion, asking questions like, "What's that flower got to do with me? Or awakening?"
Thus, the famous saying about awakening: "With words it cannot be described, without words it cannot be expressed."
You've probably noted that holding up a flower doesn't use words.
We can see how Zen-style spiritual realization enters the land of paradoxes. Rinzai Zen has made these famous with their ko-an mind-bending teachings. Have you noticed that the ego doesn't like paradoxes?
And spiritual awakening is the ultimate paradox, described this way:
"You can see it,
But it is not there!"
Study and Meditation Electives
There are weekly Master Classes (akin to online Q&A Office Hours) during this online course to support your deepening learning and practice, on the following dates at 3pm MST:
Sun. June 12
Sun. June 19
Sun. June 26
You can elect to attend all three or individual dates.
Registration & Dana links for Master Classes will be accessible to you when you register for the course.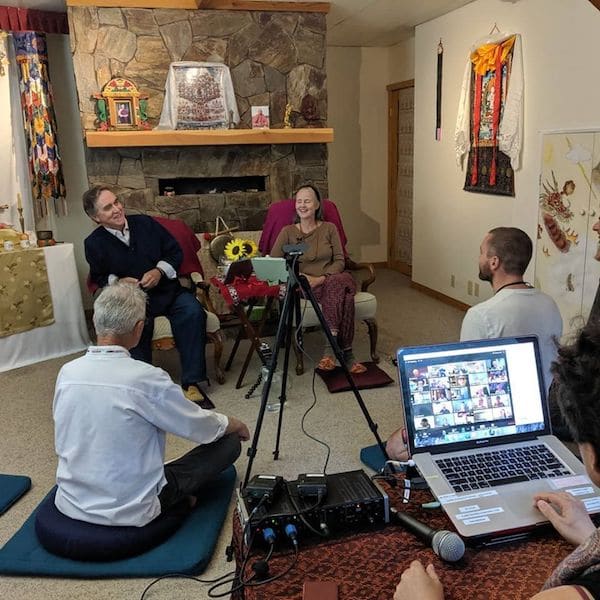 Elect to deepen your practice via a Flash Retreat during the last weekend of this course.  The retreat provides practitioners a valuable opportunity to integrate and seal the learnings from the online course, in a format well suited for our contemporary lives.
The retreat will include instructions, online check ins, and a Master Class on Sunday, July 3.
We encourage you to attend this weekend retreat at Clear Sky Centre, or together with your local sangha, or if those not available to you, in your home.
Registration and Dana links
for the Flash Retreat will be accessible to you when you register for the course.
Sangha power – consider organizing or joining regional in-person or online sangha groups to support one another during the online courses and Flash Retreats.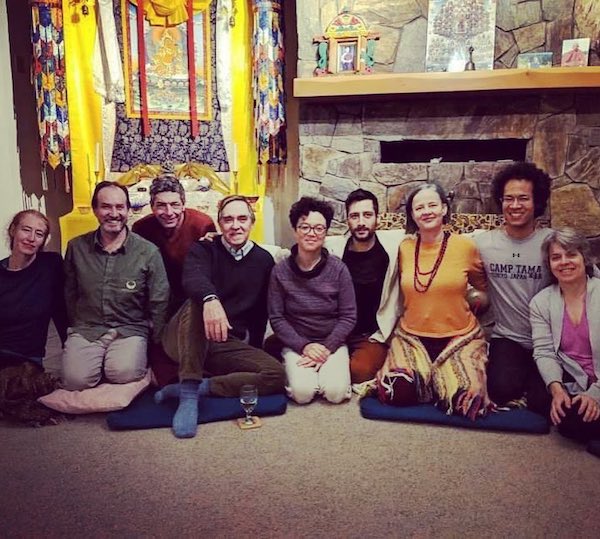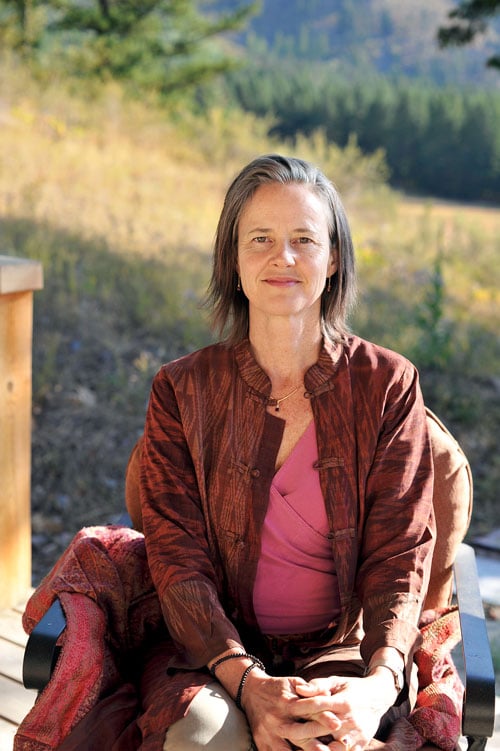 Catherine Pawasarat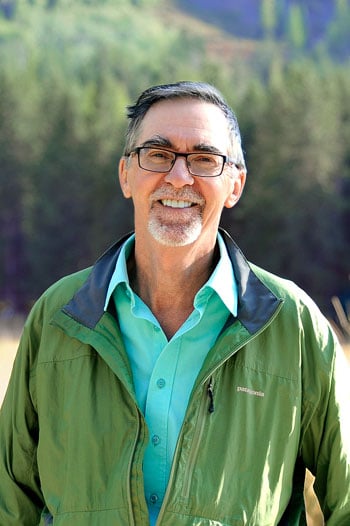 Doug Duncan
Doug Duncan and Catherine Pawasarat
are Dharma and meditation teachers who founded
Clear Sky Meditation Centre
, BC, Canada.
Achariya Doug Duncan received lay ordination from Namgyal Rinpoche in 1978, and is a lineage holder in that teaching. Known for his direct, humourous and compassionate engagement with students, Doug embraces various traditions, contemporary psychology, and science, to mentor all beings to a more awakened state.
Catherine Pawasarat has trained daily with Acariya Doug Duncan since 1998 in an intensive spiritual apprenticeship that is rare in the modern West. She received lay ordination from Namgyal Rinpoche in 2003. In addition to Buddhist philosophy and its applications to daily life, Catherine also draws on generative living and the arts. With Doug she is co-founder of Clear Sky Retreat Center in the BC Rockies.
Course Details
Time and Location
Each of the four weekly classes in this online course will be video streamed live at 7:30pm MST. The recording will be available for one week after each class.
Study and Meditation Opportunities in addition to the classes include Master Classes on three Sundays at 3pm MST, and a Flash Retreat on July 1-3 , 2022.
What Does the Course Cost?
This course is offered based on the unique combination of 1) dāna  and 2) a $100 USD administrative fee. Click on the tabs below to learn more:
You may have come across this elsewhere in the form of "pay from the heart". Dāna is a Sanskrit term meaning "generosity". With dāna, we give as a mutual exchange of generosity. It's our joy to offer this course, and we trust you'll match our time, energy, and passion by giving an amount of money that feels good and healthy to both you and us.
The dharma has been built on generosity. No-one is excluded for lack of funds but it is also extremely beneficial to give as much as you are able
Typically people give in a range of $120-$500 USD for a course. 
As we're committed to ensuring everyone has access to the Dharma, please feel comfortable to give less if you are not financially secure.  Another form of giving dāna is to offer service, and if you are interested in providing support in a non-financial way, we invite you to contact us. 
Conversely, if you are financially secure, we invite you to generate merit by providing more financial support to the Triple Gem. Contributions like these make the difference in supporting our teachers, teachings, and center.
Learn more about the practice of dāna here.
In a traditional model of in-person teachings, a retreat center or urban meditation center invites teachers to visit. In these cases the centers have infrastructure and organization costs to cover, which might be covered by an admin fee. For the teaching itself, dāna to the teachers is offered in a bowl. This honors both the sustainability of the teachers, and of the supporting center.
We've tried to recreate this approach online. The teachers' time and the teaching themselves are offered on the basis of dāna, separate to the admin fee. With our dāna offering we are making a direct gift of generosity to the teachers to support their teachings and livelihood.
The admin fee* goes to support the infrastructure and organization necessary to support them to teach. As anyone with an online business will know, it can be surprising the costs of setting up a good infrastructure to support effective teaching and connection online. The admin fee changes based on date of registration. Register four + weeks prior: $80 | Register two to four weeks prior: $100 | Register less than two weeks prior: $120.
*We also do not wish to exclude anyone from the Teachings, so if you are not currently in a financial position to afford the admin fee, please contact the course Registrar via [email protected] so we can support you to attend.
---
Below are a few of the work and benefits that your admin fee payment is supporting:
high speed internet (to allow interviews and classes on-line)
online class systems (Zoom)
registration / admin systems (Eventbrite, Basecamp)
communication systems to keep everyone informed, share connection details, teachings and other resources (Mailchimp)
online storage (for example, Dropbox, to allow us to let students watch recordings, and to store and share selected teachings in other forms such as podcasts and video later, and Amazon cloud)
quality sound, video and editing equipment (both for live teachings and to provide good enough quality for later sharing as podcasts and video). We are regularly updating our equipment to improve your user experience.
online calendar booking system to allow students to book interviews
website hosting and maintenance for sharing upcoming courses, teachings, blogs and other resources.
We welcome any questions. May all our efforts be sustainable, abundant and for the benefit of all beings!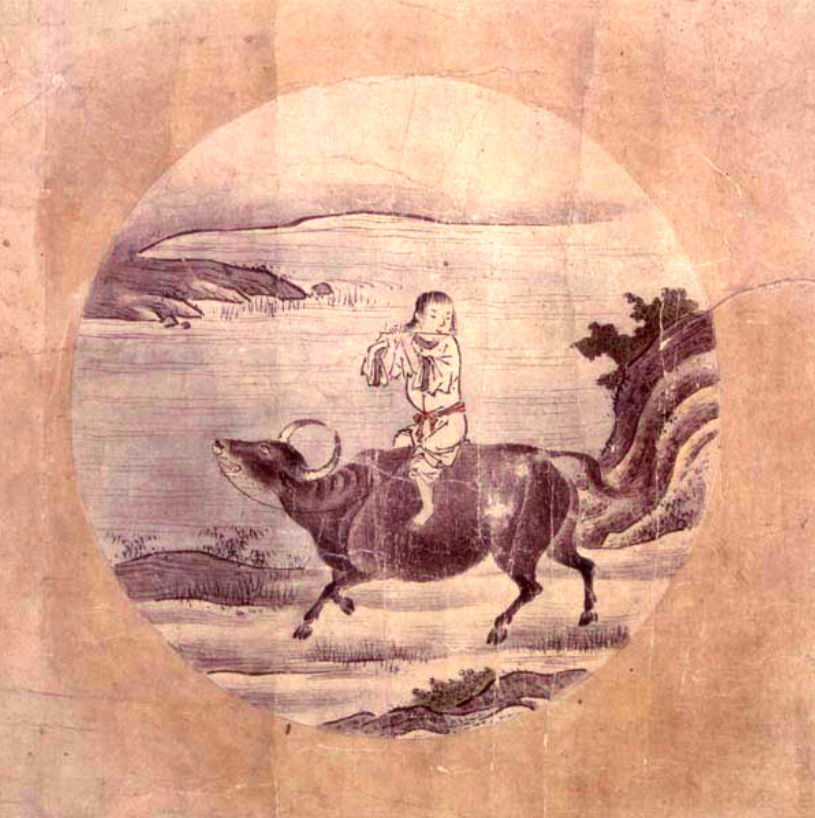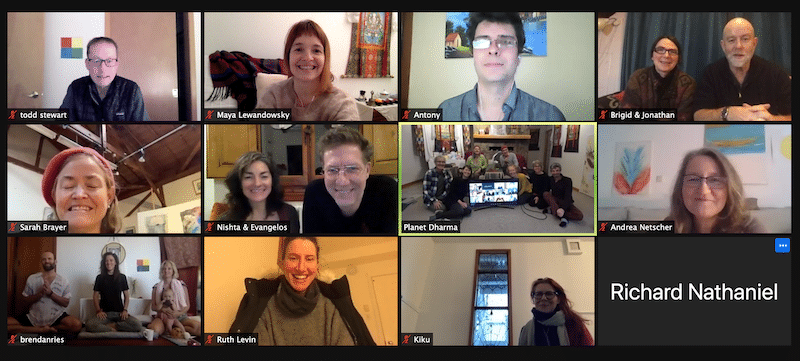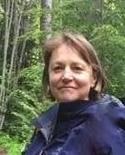 The anapanasati sutta created a deep, deep experience for me. I was finally able to understand the 16 steps and the 4 tetrads much much better. It's a whole new world.
Cheryl Bate
Clinical Counsellor, Private Practise, Whistler, BC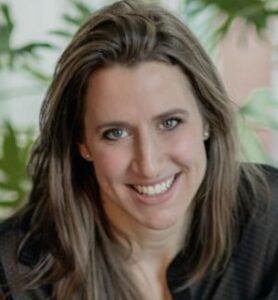 Profound teachings taught with extreme integrity. 10/10.
Ruth Naomi Levin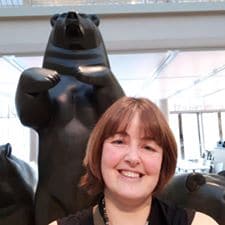 I enjoyed reconnecting with my body, with nature and with joyful memories during the retreat. Some of this was inspired through the breathing practice, and some through searching for moments of piti which we could easily connect to. There was an easing during the retreat, as well as some moments of deep connection and understanding. This time, it was hearing spaciousness explained in a different way.
Zoe Moores
Translator, trainer, researcher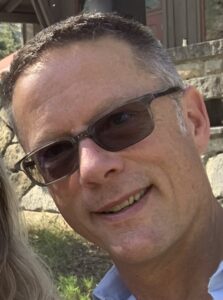 The breathing retreat was fantastic for me on so many levels! As my first retreat, it really taught how me to deepen my budding meditation practice. Catherine Sensei is warm, knowledgeable and led a wonderful course.
James Stewart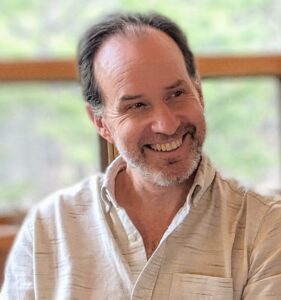 Sensei, fresh from a 3 month retreat, gave beautiful, grounded and profound teachings on breathing practice. The retreat worked seamlessly between those of us with the fortune to be in person, and those joining online. Felt I could go very deep over the ten days with a transformative combination of a great teacher, a deep practice, a sincere group of co-retreatants, and 310 acres in the mountains!
Dr. Duncan Cryle
Ph.D IBM executive
Save the Dates in your Digital Calendar Now
Download the course dates to your iCal or Google calendars. If download doesn't commence, right click on the button and select 'save link as'.