Year of Study: 2021 Schedule
Overview Schedule | Note: Currently being updated. Check for updates.
Welcome to the 2021 teaching schedule for Dharma Teachers Doug Duncan and Catherine Pawasarat. We invite and encourage you to plan your year of Dharma practice in advance. 
2021 Course & Retreat Schedule
The Year of Study
Welcome to Planet Dharma's Year of Study. In 2021, Dharma Teachers Doug Duncan and Catherine Pawasarat offer an opportunity to go deeper into the journey of study and awakening.  Like the Year of Meditation in 2020, there is no official 'year long program' in 2021. We invite you to choose from a selection of meditation retreats, online courses and public events as your aspiration guides you.
Please also visit our full schedule for additional short public talks, enlighten up dharma classes and our digital dojo office hours.
Abhidhamma: Four Week Course  (Online, Monday Nights)
Abhidhamma: Flash Retreat (At Home)
Abhidhamma Study Group  (Online, Tuesdays)
We launch the year focusing on learning, one of the four pillars of our teaching's diverse modalities. This is a four-week online course studying one of the most profound ancient 'sciences' of consciousness – the Abhidhamma Pitaka. This 'basket' of teachings brings detailed analysis to mental and physical phenomena.
Go to the course page: Abidhamma
Doug Duncan Sensei will also be offering an eight week Abhidhamma Study Group. The study group sessions are scheduled for Tuesdays at 3pm Mountain Standard Time. It is a prerequisite to attend the four week online course.
Buddhist Women in the 2020's (Introduction)
Buddhist Women in the 2020's (Online Course)
While there may be frustration, grief and rage about historical gender inequity in Buddhism, we can use Buddhist methodologies to transform these conflicting emotions into greater compassion and wisdom. Join Catherine Pawasarat Sensei for this course, hosted by Menla, on how we can adapt and shift our traditional perceptions of gender as Buddhist practitioners.
Buddhist Women in the 2020's (Introduction)
Buddhist Women in the 2020's (Online Course)
Discovering your Buddha Nature: Teachings of Gampopa (Online, 4 Mondays)
Discovering your Buddha Nature: Flash Retreat (At Home)
The 'Jewel Ornament of Liberation' is a key text in the Kagyu lineage (of which many of our teachings hail from).  It was written by Gampopa (1074-1153 C.E.), a direct disciple of the famous yogi Milarepa.  The text is considered to elucidate the complete Mahayana path to liberation, Buddha Nature and enlightenment.
Full details: Discovering Your Buddha Nature
Exploring the Bardo of Now: (Online)
Bardos relate to both living and dying, creating and dissolving.  During this retreat, we will investigate the bardos and what they can teach us about life and impermanence.  Sponsored by Awaken in Toronto (AIT), this week-long retreat will tentatively be held at the Dharma Centre of Canada*
UPDATE: Due to the ever-changing travel restrictions, globally and in Canada, this course will also be offered online, as a week-long series of classes.  
Go to the course page: Bardos Retreat
Summer Meditation Retreat: Breathing
Breathing. You can't beat it, for life, and as a meditation practice. Breathing meditation is suitable for all types of people.  It develops, concentration, calm, bliss and insight – altogether leading to awakening and healing.
This meditation retreat will be led by Achariya Doug Duncan Sensei at Clear Sky Meditation Center in Eastern BC, and will also be held online for those unable to travel there.
Go to the course page: Meditation Retreat – Breathing.
Tantric Deep Dive
Sweet 16: Clear Sky's Anniversary Celebration
(Clear Sky, BC) 
Celebration time! Covid-19 travel restrictions threw a wrench in our plans for Clear Sky's 15th Anniversary and Tantric Deep Dive in 2020.  Let's celebrate in 2021 instead!  Join us to fete Doug Sensei's 71th year, together with 16 remarkable years at Clear Sky.
Tantric Deep Dive:  Three Vajrayana Empowerments
From August  13, 2021, Lamas Doug and Catherine Sensei will bestow 3 Vajrayana initiations or empowerments (also called Tib. དབང་, wang or Wongkur). This 3 initiations empowers you to practice some rarely given meditations on the radiant forms of deities.
16th Anniversary Celebration Weekend:  From Aug 13-15, We will honor our remarkable lineage and rejoice at the growth we've experienced since the founding and development of our cutting-edge 310-acre meditation cushion, Clear Sky Retreat Center.
Go to the retreat page: Retreat & Celebration 
Dzogchen Meditation Retreat
Opening to the Clear Light of the Mind (Online & UK Retreat Options)
Beneath the confusion and distraction of our minds, the Mind itself is empty, spontaneous and compassionate.  The practice of Dzogchen helps us cut right through the confusion to this original, pure and luminous nature of Mind.  
This retreat, with meditation masters Acharya Doug Duncan And Catherine Pawasarat Sensei, is for any meditator looking to go deeper to the essence of practice.  
Covid-19 Update: Due to travel restrictions, this retreat will now be held online.
Go to the retreat page: Dzogchen Meditation Retreat 2021
Seven Rays of Healing with Medicine Buddha (Online & Germany & Clear Sky Retreat Options)
How can we heal? How can we feel healthy and whole?
Every wisdom tradition around the world holds that true healing comes through an understanding of the nature of reality. Part of this entails learning to discern between—and dance together with—both absolute reality and relative reality.
The Seven Rays of Healing use the chakra system of ancient India combined with aspects of Theosophical philosophy. This system helps us understand the different ways we manifest in the world. Moreover, it helps us learn how to reorient our approach and engagement with the parts of our lives represented by the seven rays, to embody greater love, compassion and understanding. In other words, it helps us learn to realize our spiritual essence.
Covid-19 Update: Due to travel restrictions, this retreat will now be held online.
Go to the retreat page: Seven Rays of Healing with Medicine Buddha 2021
October  25 – November 15
Zen: Four Week Course (Online, Monday Nights)
Zen: Flash Retreat (At Home)
"What measure measures the measurer's measure?"
Discover the profound state of unknowing in the context of Zen Buddhism.  This is a four week online course on the foundations of Zen Buddhism.
Details: Zen Online Course
Zen Meditation Retreat (Clear Sky, BC)
New Year in Community (Clear Sky, BC)
"What measure measures the measurer's measure?"
A two week Zen meditation retreat – focusing on experiential wisdom. Followed by an opportunity to spend New Year in Community.
Details: Zen Meditation Retreat
Mark your calendars now. Stay tuned for updates.
Supporting Each Other in 2021
Although there is no formal year program, we encourage you to reflect and set an intention for 2021 of what you will attend. We also invite you to connect with people in your local Sanghas to share your aspirations for 2021 and ways you can work together to explore and support each other with your Dharma studies.
Doug and Catherine Sensei have a complimentary teaching style that empowers me to take on life's numerous challenges. Thanks to their guidance, I understand the role of fiery masculine energy and how to integrate it with softer more receptive earth feminine energy. They are Yin and Yang in human form. I could not ask for a more complete or effective spiritual teaching.
My incredible teachers, Thank you for your unwavering compassion, patience and wisdom. And thank you for the opportunity to learn from you and join you on Dharma trips. I love you both from the platform, to the edge of the universe. And will show that love by doing the work! For the benefit of all beings.
Doug & Catherine's teachings are a rallying cry for all those who want no-holds-barred, honest guidance on the path of awakening.  I'm thoroughly inspired by the spiritual potential we all have, and sobered by the challenges we face as a species and global consciousness.  The path they lay out makes it clear that the journey is worth taking.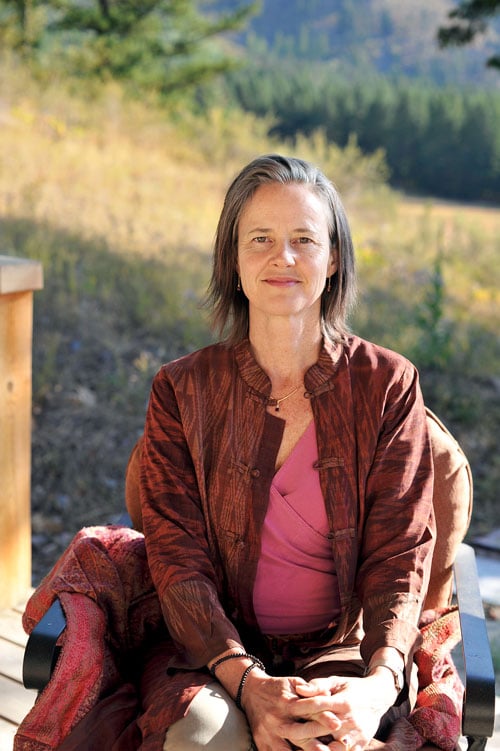 Catherine Pawasarat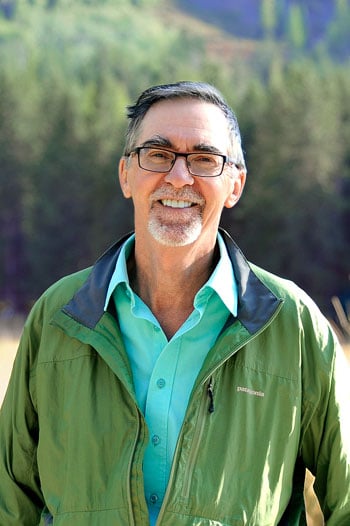 Doug Duncan
Doug Duncan and Catherine Pawasarat are Dharma and meditation teachers who founded Clear Sky Meditation Centre, BC, Canada.
Achariya Doug Duncan received lay ordination from Namgyal Rinpoche in 1978, and is a lineage holder in that teaching. Known for his direct, humourous and compassionate engagement with students, Doug embraces various traditions, contemporary psychology, and science, to mentor all beings to a more awakened state.
Catherine Pawasarat has trained daily with Acariya Doug Duncan since 1998 in an intensive spiritual apprenticeship that is rare in the modern West. She received lay ordination from Namgyal Rinpoche in 2003. In addition to Buddhist philosophy and its applications to daily life, Catherine also draws on generative living and the arts. With Doug she is co-founder of Clear Sky Retreat Center in the BC Rockies.
This retreat was right on the mark, a perfect blend of focused inner work along with space for reflection in a trusting and comfortable setting. The teachers were wonderful, insightful, humorous, and extremely attentive to our individual needs for understanding. This unique experience cultivated a bond within the group and fostered an energy that amplified each lesson.
Ancient teaching that I feel is important to understand if someone was serious about meditation practice. I appreciate the teachers, Doug Duncan and Catherine Pawasarat, unrelenting perseverance to teach about the roots and traditions of these rich practices. These practices are life changing, so it is great that we can have teachers that will explore the rich history with us, and deliver the material in a very understandable and relevant way.
World class teachings from world class people! Doug and Catherine Sensei are the real deal and they ultimately want one thing for you – to guide you toward awakening with totality and intelligence. Planet Dharma's steadfast, professional commitment to meet the needs of seekers today is impressive. What a precious gift to have access to these wisdom teachings and practices from anywhere in the world; Live online and in connection with others as well as on-demand courses and podcasts. Clear Sky in-person immersions set in a pristine landscape offer the opportunity to come back to center while having the support of an established compassionate sangha to help deepen the experience. So grateful for having met this community!