One of the things that drew me to Buddhism is also one of its most frustrating aspects.  We are asked to look into each experience itself and see what it has to teach us.
We aren't supposed to just blindly follow the Buddha or living spiritual teachers.  We are meant to investigate and live the principles of spiritual awakening in our very own lives.
A Daily Practice: The Paramis
How can we live and practice this path day-to-day?  I'd like to share a powerful practice that I've used for more than 20 years – the Paramis.  I use the Paramis to look closely at each experience in my life, and to investigate the Dharma, the laws of awakening.
I used to think the Paramis were a tricky set of values that seemed to change every year. And sometimes day-to-day! I now recognize that's not fair to the Paramis. I realize it's me that keeps understanding them differently.
As a daily practice, the Paramis compliments meditation retreats, karma yoga and working with my Teachers and spiritual community.
There are countless translations of the Paramis, and they can be practiced in any order. Here is the sequence and the words I like to use:
Generosity (Dāna)
Discipline (Śīla)
Acceptance (Kṣānti)
Effort (Vīrya)
Concentration (Dhyāna)
Insight (Prajñā)
The six Paramis are deliberately laid out from practical to more subtle.
Starting and Re-Starting with Generosity
Although the Paramis can be practiced in any order, they are perfected in order.  In other words, perfecting generosity leads to a cascade of growth in discipline, acceptance, effort, concentration and insight.  Without generosity the other Paramis cannot be perfected.
Personally, I find I could just stay with the generosity exploration for my entire life, the practice is so profound and life-changing.
Is Generosity just about Money?
When I first started thinking about generosity, I was quite poor and living paycheque-to-paycheque. I didn't feel generous financially. At that time I thought generosity was limited by my financial situation and I didn't consider that there was other ways to give.
Over the years, while strengthening my financial generosity, I began to think of other ways to practice generosity. I became a social worker and worked with marginalized women. I realized that the generous act of listening is a rarity in the busy city.
I also started thinking about how the act of 'giving' can extend to our digital lives – such as engaging with and sharing wholesome messages on social media.
I began giving short talks about generosity after our meditation classes. I tried to mix it up and approach dāna differently each time.  This helped me investigate deeper and improved my generosity of communication.
Opening to Generosity, Again
I've now come to accept that no matter how much money I earn or how many times I start afresh, generosity will always have something more to teach me. It's supposed to be that way. It isn't supposed to be a formula that we can calculate and then apply.
Although it seems humbling to continuously go back to the first Parami, even after 20 years of practice, I do so with a knowledge that this is a life's work.
Generosity, like all of the Paramis, is meant to gently rub off our rough edges and leave us shinier and make our true selves more transparent.
And while I have breath, I bow my head, and open to generosity. Again.
—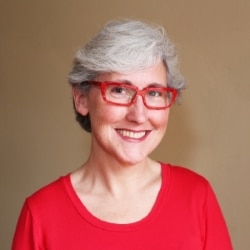 Linda Hochstetler teaches meditation in Toronto. She has studied Dharma with Doug Duncan and Catherine Pawasarat for many years.  Linda is also Buddhist Lay Chaplain and Social Worker, specializing in end of life care.
Would you like to learn more about the Paramis?  Study them deeply on an experiential retreat on the Paramis.
If you would like to receive updates and new Dharma content, sign up to the Planet Dharma mailing list. We commit to kindness to your inbox.