Year of Meditation: 2020 Schedule
Overview Schedule | Note: Currently being updated. Check for updates.
Welcome to the 2020 teaching schedule for Dharma Teachers Doug Duncan and Catherine Pawasarat. We invite and encourage you to plan your year of dharma practice in advance. The schedule is subject to changes and additions. Mark your calendars now and check back again for more details.
2020 Course & Retreat Schedule
The Year of Meditation
Welcome to Planet Dharma's Year of Meditation. In 2020, Dharma Teachers Doug Duncan and Catherine Pawasarat offer an opportunity to go deeper, quieter and calmer into the journey of meditation and awakening.  Different from the year long programs of recent years, there is no official 'program' this year. We invite you to choose from a selection of meditation retreats, online courses and public events as your aspiration guides you.
The Diamond Realization: Clarity in an Unclear World (Online)
We launch the year focusing on learning, one of the four pillars of our teaching's diverse modalities. This is a four-week online course studying the Diamond Sutra, to sharpen our mental acuity and deepen our understanding of this profound turning of the wheel.
Go to the course page: The Diamond Realization Online Course
Conscious Life Expo in L.A. & Public Teachings in Pasadena
Join us in Los Angeles for the Conscious Life Expo! We're proud to be presenting at this major event (Fri-Mon Feb 7-10) covering all aspects of consciousness as we know it. We will be giving talks on the opening Friday and on the Sunday. Both Planet Dharma and Clear Sky will have a presence. You are welcome to visit us there or even be a part of our team — get in touch for either.
On Thursday February 13th we will be teaching in Pasadena. Join us at these historic classes, or let your friends in the region know so that they may benefit. Click here for Dharma Classes in Pasadena.
Four Foundations of Mindfulness: The Satipaṭṭhāna Sutta
(Online)
While we believe any undertaking can be a vehicle for awakening, there is no substitute for the power of meditation. This is why meditation is one of the four foundational practices of our teaching. Together we take a deep dive in this four-week online course exploring the Theravadin tradition of vipassana or insight meditation, through the lens of the Four Foundations of Mindfulness (kaya, vedana, citta, dhamma). Don't know what this means? You will, and it will help you extend your meditation experience into the microcosms of subatomic particles, the vastness of space and all that's between.
Go to the course page: Satipaṭṭhāna Sutta: The Four Foundations of Mindfulness
It's not just about meditating or feeling blissful! Learn how to overcome preference mind, by turning every moment and every situation into an experience of spiritual awakening. That is the Path of Victory.  In this four week course, we will share Planet Dharma's five principles of spiritual awakening.
Go to the course page: Beyond the Cushion: Awakening our Highest Potential.
Tantric Deep Dive & 15th Anniversary Celebration
*Cancelled due to Covid 19*
Celebration time! Join us to fete Doug Sensei's 70th year, together with 15 remarkable years at Clear Sky.
Tantric Deep Dive: A Week of Empowerments: From June 26 to July 3, 2020, the Lamas will bestow 12 Vajrayana initiations or empowerments (also called Tib. དབང་, wang or Wongkur). This week of initiations is an opportunity practice meditations on the radiant forms of deities by the use of mantra.
15th Anniversary Celebration Weekend:  From July 3-5, We will honor our remarkable lineage and rejoice at the growth we've experienced since the founding and development of our cutting-edge 310-meditation cushion, Clear Sky Retreat Center.
Go to the retreat page: Celebration & Vajrayana Empowerments
Mastering the 16 Stages of Insight (Retreat)
*Online participation available*
This retreat is for mastering the sixteen stages of insight through the practice of the foundations of mindfulness (Satipatthana sutta). Find out why meditation is one of the four foundational practices of our teaching. Take advantage of Acariya Doug Duncan Sensei's mastery of insight in this powerful and rare two-week insight meditation retreat. Your experience of your mind will never be the same. Held at our home retreat centre, the model of innovative awakening in the 2000s, Clear Sky, in the Rocky Mountains of BC.
Go to the retreat page: Mastering the Sixteen Stages of Insight.
Karma, Womb & Transcendence Somatic Retreat, UK
The nine months in our mother's womb plus our birth comprises some of the most formative karmic shapings of our experience of this lifetime. Having contact with and understanding our emergence into form is key to the wholesome experience of this and other lifetimes. Join this important, somatic ten-day retreat on Namgyal Rinpoche's pioneering work on Karma, Womb and Transcendence at the historic Maitreya House in Wales, UK.
Go to the retreat page: Karma, Womb and Transcendence.
Public Talk in London: Money, Sex and Power
Doug and Catherine Sensei present public teachings on how we can transform challenges with these energy-intensive issues to fuel our spiritual unfoldment. The teachings will take place at the historic Watkins Bookstore, the oldest metaphysical bookstore in the U.K. Details TBC.
As the adage goes, remarkable tea requires a worthy vessel. Similarly our meditation practice needs the healthy container of our lives to flourish. In these times of speed and stress, we'd like to share with you what we've found works well through Clear Sky's Five Principles of a Spiritual Container.
Go to the course page: Eye of the Storm: Navigating the Modern World.
Sixteen Buddha Body Practice (Retreat)
Explore the dimensions of inner space. This meditation retreat offers a rare opportunity to engage with the 16 Buddha Body Practice.  Held at the spectacular winter wonderland-like setting of our home retreat centre, Clear Sky.  
Go to the retreat page: Sixteen Buddha Body Practice Retreat
Mark your calendars now. Stay tuned for updates.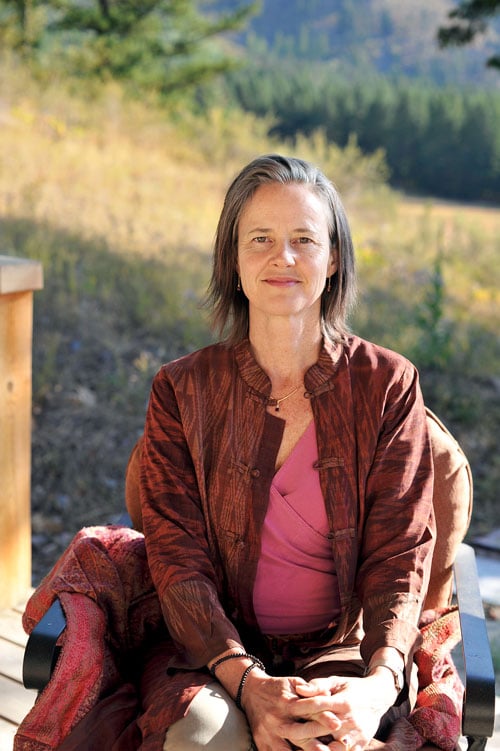 Catherine Pawasarat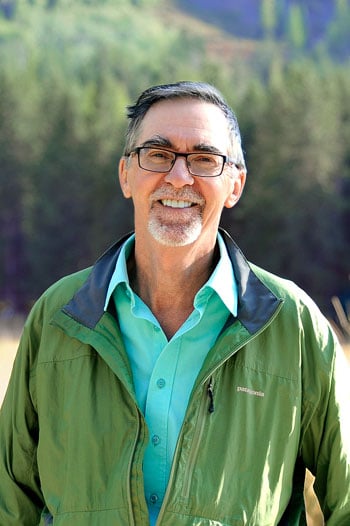 Doug Duncan
Doug Duncan and Catherine Pawasarat are Dharma and meditation teachers who founded Clear Sky Meditation Centre, BC, Canada.
Achariya Doug Duncan received lay ordination from Namgyal Rinpoche in 1978, and is a lineage holder in that teaching. Known for his direct, humourous and compassionate engagement with students, Doug embraces various traditions, contemporary psychology, and science, to mentor all beings to a more awakened state.
Catherine Pawasarat has trained daily with Acariya Doug Duncan since 1998 in an intensive spiritual apprenticeship that is rare in the modern West. She received lay ordination from Namgyal Rinpoche in 2003. In addition to Buddhist philosophy and its applications to daily life, Catherine also draws on generative living and the arts. With Doug she is co-founder of Clear Sky Retreat Center in the BC Rockies.
Doug & Catherine's teachings are a rallying cry for all those who want no-holds-barred, honest guidance on the path of awakening.  I'm thoroughly inspired by the spiritual potential we all have, and sobered by the challenges we face as a species and global consciousness.  The path they lay out makes it clear that the journey is worth taking.
Doug and Catherine are always burning calories to get you back on a path that can lead toward greater self-awareness. When I am with these two very clear individuals, I am humbled by their dedication to others, and understand the every-waking-moment responsibility that comes with their calling.
If you get a chance to study with Doug and Catherine, don't miss it. Through the power of long dedication, deep meditation, and wise guidance, life can definitely be transformed.